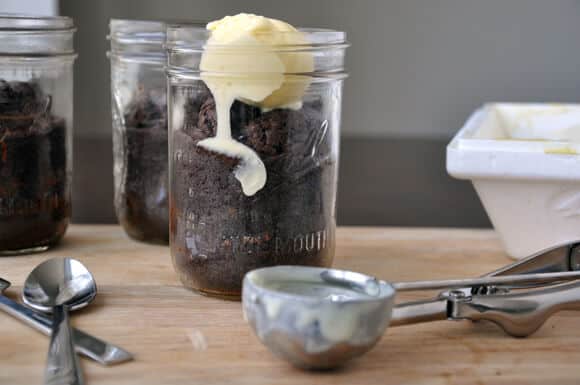 Bread in a jar is so 2010. And cake in a jar? Hello 1908. But brownies in a jar? Now you're speaking my language.
I figured that if bread, cake and even cookies can squeeze themselves into canning jars, then who's to say that brownies can't share in the confectionery claustrophobia?
This unique baking technique seems to be sweeping the food blogosphere. First it was "_____ On a Stick," and now it's "_____ In a Jar." But by far the best part of baking anything in a jar is that there's an excuse for an ice cream topper, which creates a swirl of creamy vanilla bean and fudgy chocolate, all in a convenient cup. I'd say that beats pickled anything.
The next big craze? I'd like to be the first to guess that "Frozen _____ In an Ice Cube Tray" is about to hit it big. I wish I was kidding. I do it to my pesto. Friends do it to their chicken stock. Dessert cubes are a natural progression.
Ingredients
Butter, for greasing jars

Your favorite brownie mix, homemade or a boxed mix

Vanilla ice cream, optional
Instructions
Preheat the oven to 350ºF.

Thoroughly grease the inside of four clean canning jars with butter. Set aside.

Prepare the brownie batter per your recipe's instructions.

Pour the batter into each of the greased jars, filling them one-fourth full. Tap the jars lightly on the counter to release any air bubbles. Place the filled jars on a cookie sheet, arranged so that they are not touching each other.

Bake the jars for 40 to 45 minutes, or until a toothpick inserted comes out clean.

Top with a scoop of vanilla ice cream.

★ Did you make this recipe? Don't forget to give it a star rating below!
This post may contain affiliate links.