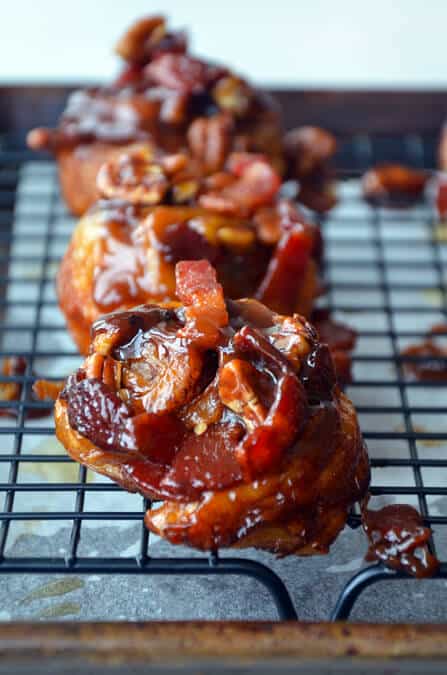 I'm a longtime member of the store-bought puff pastry fan club. I have twisted, folded, filled and topped the buttery sheets into every creation imaginable, from cheesy pretzels to pumpkin mousse-stuffed cornucopias. But sticky buns? Mind = blown.
Please direct all high-fives and OMG's to Ina Garten, who is the mastermind behind this spectacular shortcut on the otherwise lengthy road to homemade sticky bun satisfaction. All I simply did was remove the raisins and add bacon, which just might be the swap-out to end all swap-outs.
The Barefoot Contessa and I go way back. She was the second reason (Mom was first) I ever pursued a career in food. Because while most kids were flipping through comic books at the kitchen table, I was flipping through Ina's cookbooks. To this day, the entire set—from The Barefoot Contessa Cookbook to Barefoot Contessa Foolproof—sits on my kitchen counter. I even stood in line for two hours once to snap a photo with her. Ina's just that kind of gal.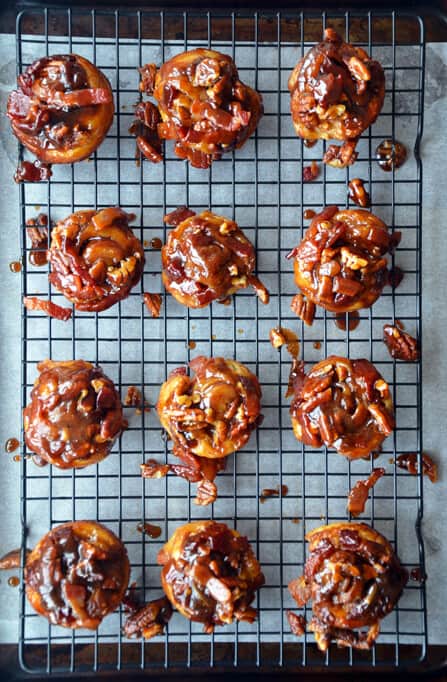 So when last Sunday morning rolled around and I was craving something seriously sweet and satisfying, I knew sticky buns were in my future. But all that yeast … and kneading … and proofing … and rolling. I needed a sticky bun, and I needed it before November.
Prior to discovering this recipe, I always thought the phrase "easy sticky buns" was an oxymoron. But as it turns out, two sheets of store-bought puff pastry, a handful of chopped pecans and a few slices of thick-cut bacon, and suddenly I was in business. Best of all, the bacon is surrounded by brown sugar-whipped butter, which results in candied bacon. And I know we all have a thing for candied bacon.
So thank you, Ina, for inspiring me while simultaneously preventing me from fitting into my pants. Please don't hesitate to call if you're ever in need of a girls' weekend in the Hamptons. I'm but a train ride, and a hot pan of bacon-studded sticky buns, away.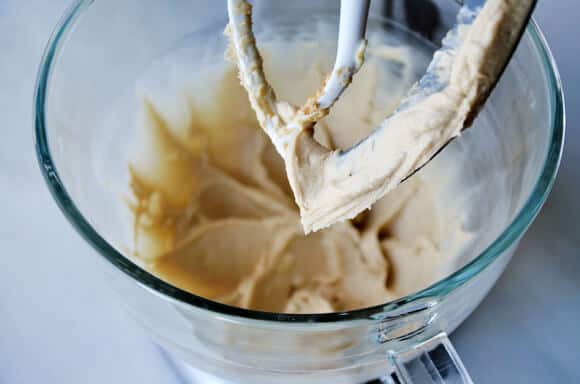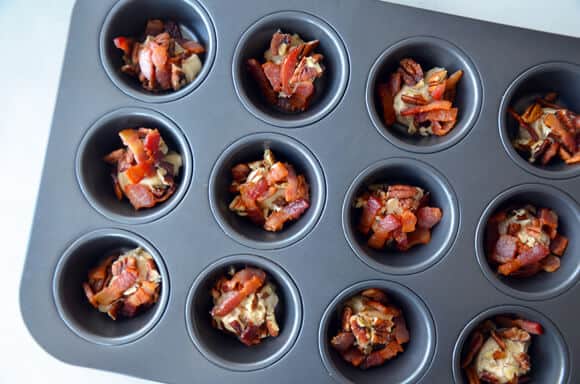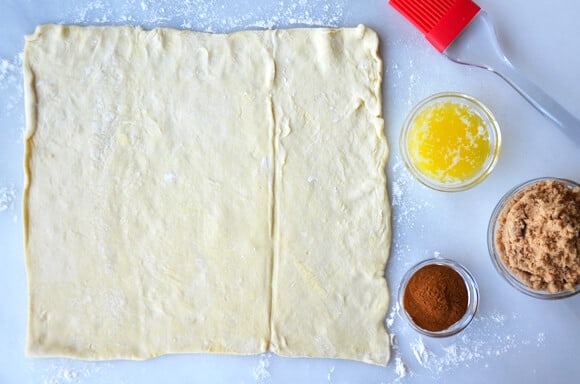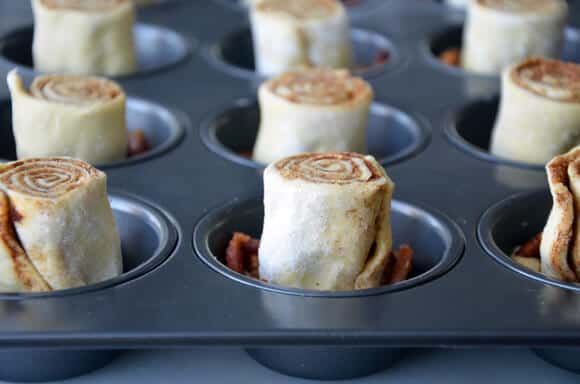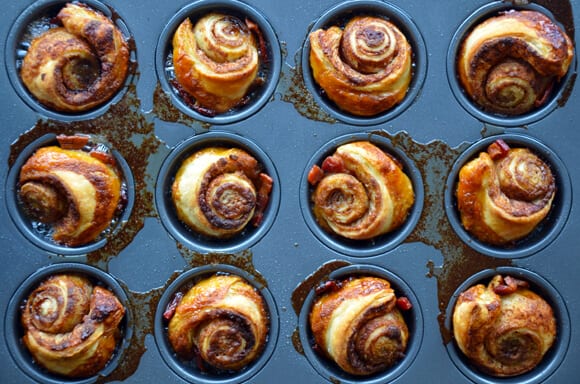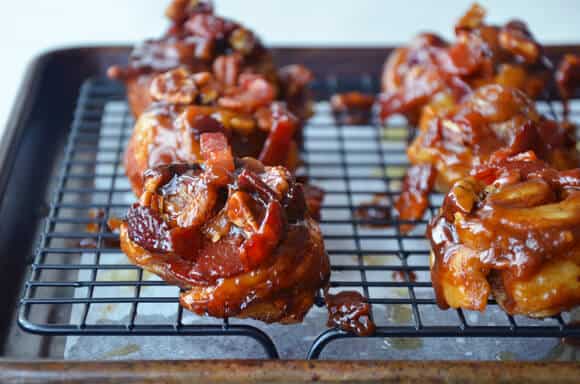 Craving more? Sign up for the Just a Taste newsletter for a fresh serving of content delivered every week to your inbox! And stay in touch on Facebook, Twitter, Pinterest, and Instagram for all of the latest updates.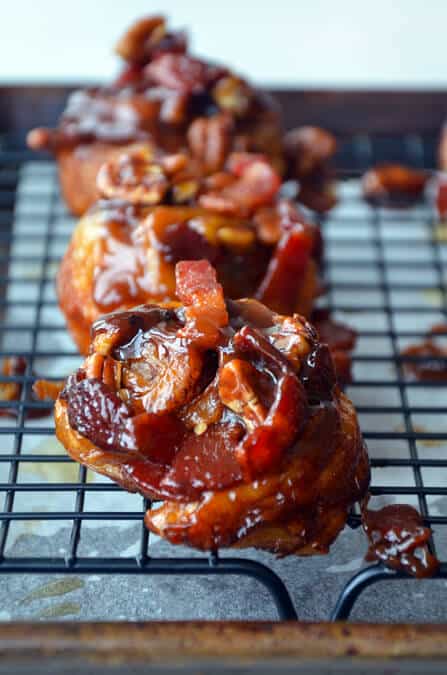 Ingredients
For the sticky buns:
5

slices thick-cut bacon, cut into 1/4-inch pieces

12

Tablespoons

(1 ½ sticks) unsalted butter, at room temperature

1/3

cup

light brown sugar, lightly packed

1/2

cup

pecans, roughly chopped

1

(17.3-oz) package (2 sheets) frozen puff pastry, defrosted
For the filling:
2

Tablespoons

unsalted butter, melted and cooled

2/3

cup

light brown sugar, lightly packed

3

teaspoons

cinnamon
Instructions
Preheat the oven to 400ºF.

Cook the bacon in a large saucepan over medium heat until a majority of the fat has rendered. Using a slotted spoon, transfer the cooked bacon to a paper towel-lined plate.

In the bowl of a stand mixer fitted with the paddle attachment, cream together 12 tablespoons (1 ½ sticks) butter with ⅓ cup light brown sugar until light and fluffy, about 2 minutes.

Divide the butter mixture between the cups of a nonstick 12-cup muffin pan. Divide the chopped pecans and cooked bacon between the cups, sprinkling them on top of the butter. (See Kelly's Notes.)

Lightly flour your work surface. Unfold one sheet of puff pastry onto the surface with the folds opening left to right. Brush the whole sheet of pastry with half of the melted butter then sprinkle it with half of the light brown sugar and half of the cinnamon. Starting at the bottom edge (closest to you), tightly roll up the pastry ending with the seam side down. Trim and discard the two ends then cut the roll into 6 equal pieces, about 1 ½ inches wide. Place each piece, spiral facing up, in each of six muffin cups. Repeat the filling, rolling and slicing process with the second sheet of puff pastry to make 12 sticky buns.

Place the muffin pan on a baking sheet lined with parchment paper (to catch any overflow) and bake the sticky buns on the center rack for 25 to 30 minutes until the buns are golden brown and firm to the touch. Remove the sticky buns from the oven and allow them to cool in the pan for 5 minutes only, then invert the pan onto the parchment paper-lined baking sheet, scraping out any topping from the cups. Let the buns cool slightly then serve.
Kelly's Notes:
It's important that you sprinkle the chopped pecans and bacon on top of the butter mixture in each muffin pan so that they do not burn while baking.

Do not let the sticky buns cool for longer than 5 minutes in the pan or the topping will become too hard and not release along with the buns when you invert the muffin pan onto the baking sheet.

★ Did you make this recipe? Don't forget to give it a star rating below!
Nutrition
Calories:
391
kcal
,
Carbohydrates:
28
g
,
Protein:
3
g
,
Fat:
29
g
,
Saturated Fat:
12
g
,
Cholesterol:
45
mg
,
Sodium:
157
mg
,
Potassium:
86
mg
,
Sugar:
18
g
,
Vitamin A:
415
IU
,
Calcium:
29
mg
,
Iron:
0.9
mg