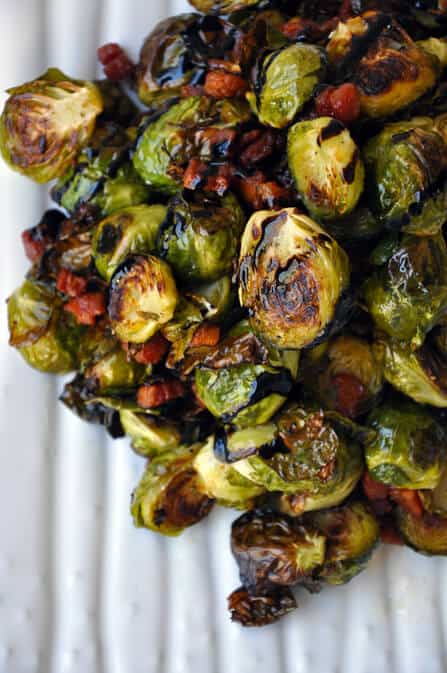 Pancetta Palooza continues this week with one more way to work bacon into your everyday diet. I've become a big fan of the thick slices of pancetta I buy from my local butcher. No thin slices in this kitchen, just squares of salty, rich pork.
In addition to adding them to my new favorite vodka pasta sauce, I'm now pairing the sauteed cubes with roasted Brussels sprouts for the ultimate combination of richness and leafy greens. The show-stopping finale? A drizzle of thick and tangy balsamic syrup. It's never been so easy to eat your vegetables!
Brussels Sprouts with Pancetta and Balsamic Syrup

Yield: 6 servings

Prep Time:

Cook Time:

Ingredients:

½ pound pancetta (one thick slice), diced
1½ pounds Brussels sprouts, stems removed, halved
Olive oil
1 cup balsamic vinegar

Directions:

Preheat the oven to 400ºF.
In a large bowl, drizzle the halved Brussels sprouts with 2 tablespoons olive oil, tossing to coat.
Pour them onto a sheet pan and season them with salt and freshly cracked black pepper.
Roast the Brussels sprouts for 40 minutes.
While they're roasting, sauté the diced pancetta in a large non-stick pan, cooking until golden brown. Set aside.
Simmer 1 cup of balsamic vinegar in a small sauce pan over medium-high heat until it reduces by half, about 10 minutes. It should be thick and syrupy. Set aside.
Remove the roasted Brussels sprouts from the oven and pour the sauteed pancetta (plus any drippings) directly atop the Brussels sprouts, tossing to combine.
Transfer the mix to a serving platter and drizzle with the balsamic syrup.