Skip the store-bought sweets and bake up soft and chewy cookies perfect for starring in this family favorite recipe for Chocolate Chip Cookie Ice Cream Sandwiches.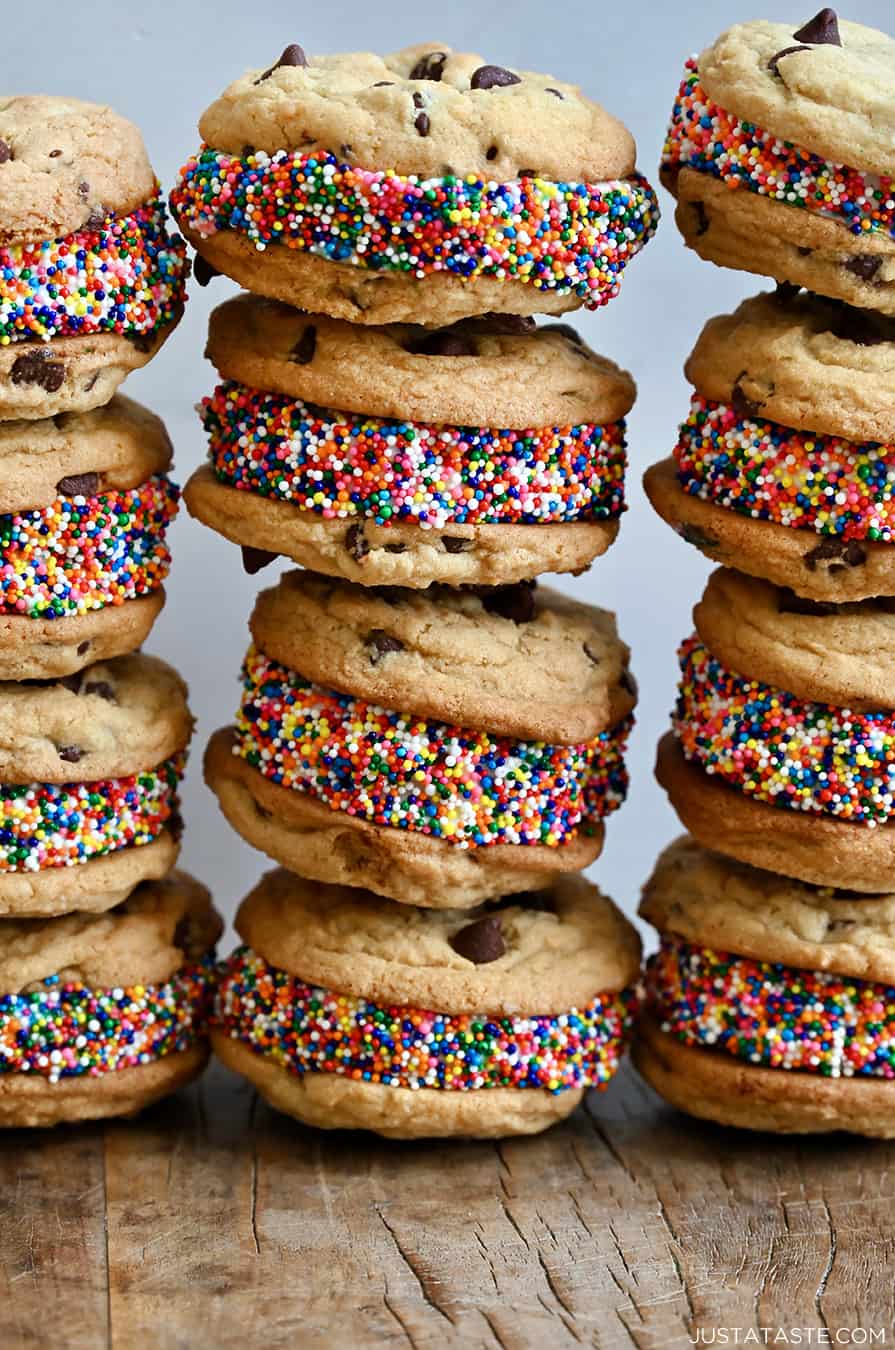 Few desserts get cheers around our house like the classic combo of cookies and ice cream. It's my husband's all-time favorite dessert duo, and I suppose it's not much of a surprise that my little ones will never turn down a confection covered in rainbow sprinkles.
I've combined the best of both worlds my sandwiching your ice cream flavor of choice between two incredibly soft and chewy chocolate chip cookies. A quick roll in sprinkles and the ultimate dessert for any celebration is done!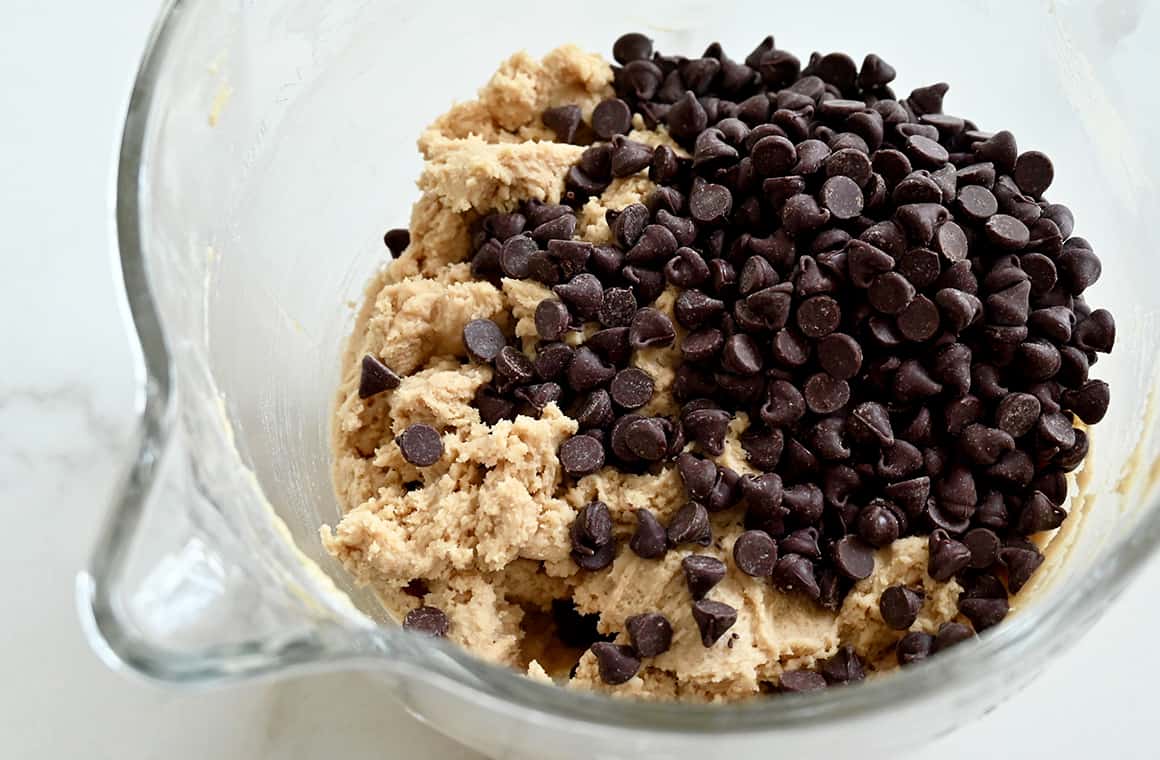 What Are the Best Cookies for Ice Cream Sandwiches?
First and foremost, homemade is the way to go because we can control the exact texture of the baked cookies and therefore the result once they're frozen. In order to have cookies that are still chewy and soft (read: bite-able!) in their chilled state, we need to start with cookies that are just that: chewy and soft.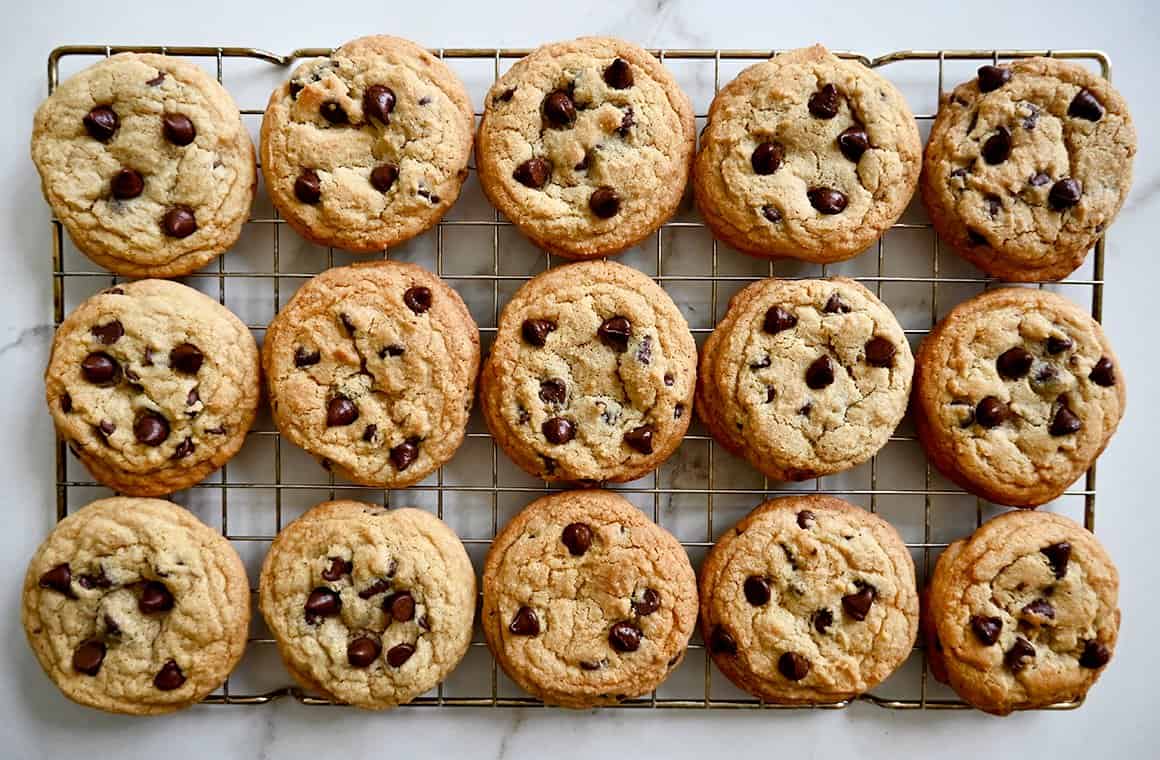 The key is to balance the ratio of white and brown sugars to achieve the ultimate texture. More white sugar in a recipe will lead to crispier cookies. While I'm all for crunchy sweets, biting into a big ol' ice cream-filled cookie sandwich is not the time nor the place for crumbs!
I've upped the brown sugar in this recipe, which means there is more molasses and more moisture. The result? Soft, chewy, totally bite-able cookies, even in their frozen-solid state.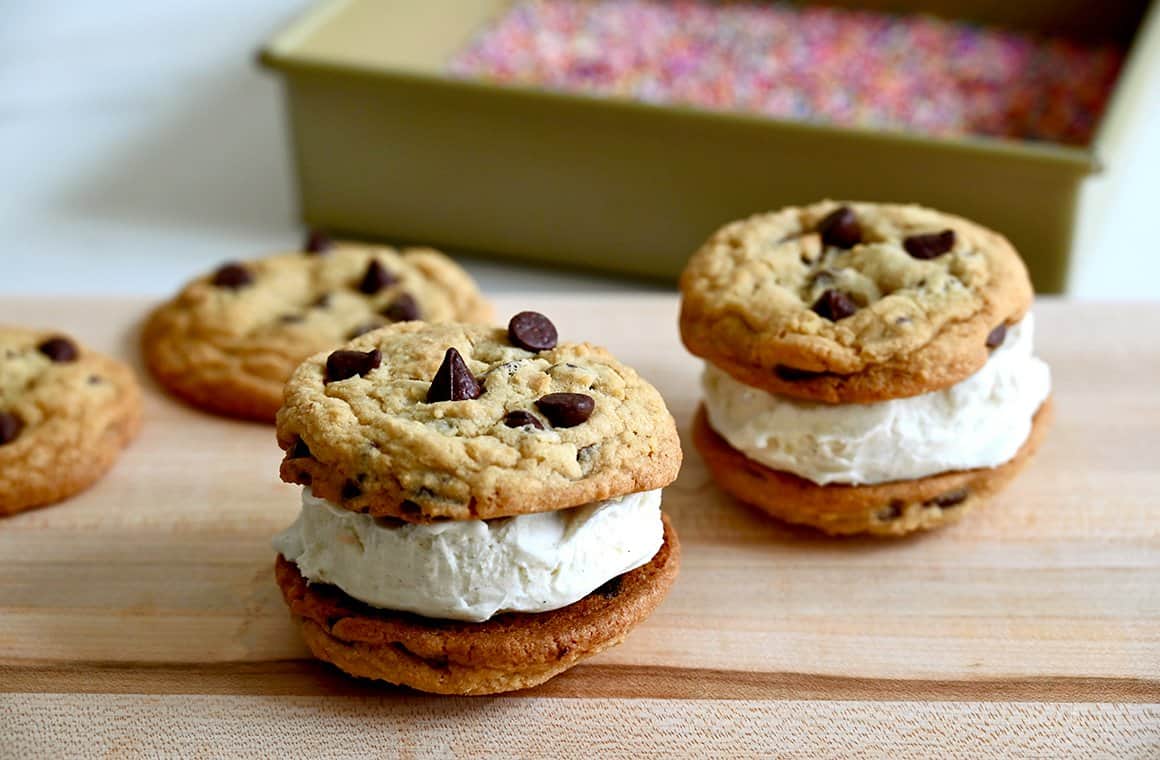 How to Make Ice Cream Sandwich Cookies Soft
On the obvious front, it's important to led your homemade cookies cool completely before sandwiching them together with ice cream. We want to give these sweets the best chance at retaining their shape.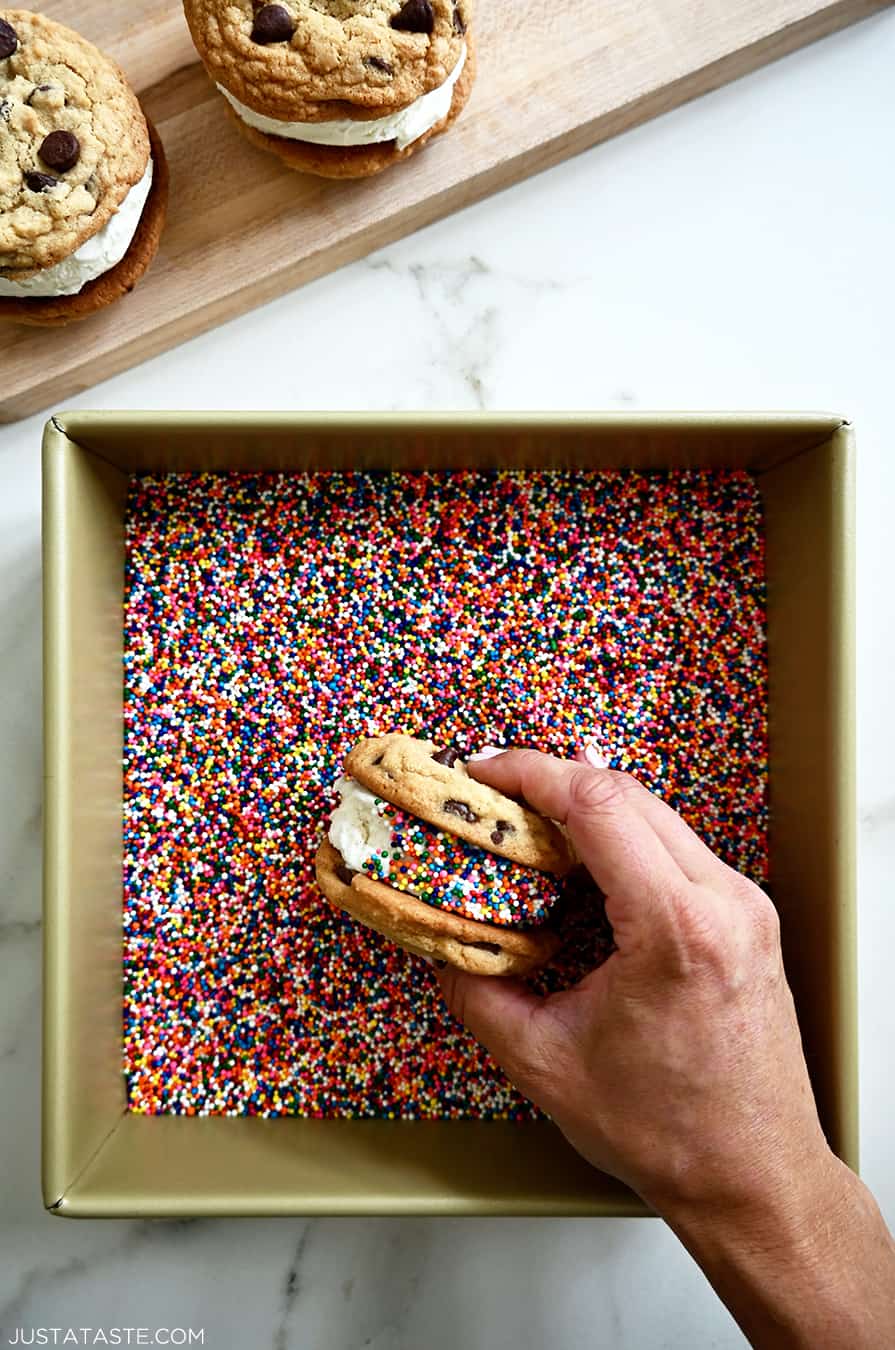 It's also important to work in stages. While it's not necessary to create perfect, cookie cutter pucks of ice cream, I love the uniformity of the technique. It requires you to spread the ice cream into a 13×9-inch pan and then freeze it in a flat layer. A few hours later you can use a cylindrical ice cream scoop or a circular cookie cutter to stamp out perfectly-sized rounds based on the size of your cookies. Not into these extra steps? Reach for the ice cream scoop and let the sandwiching begin!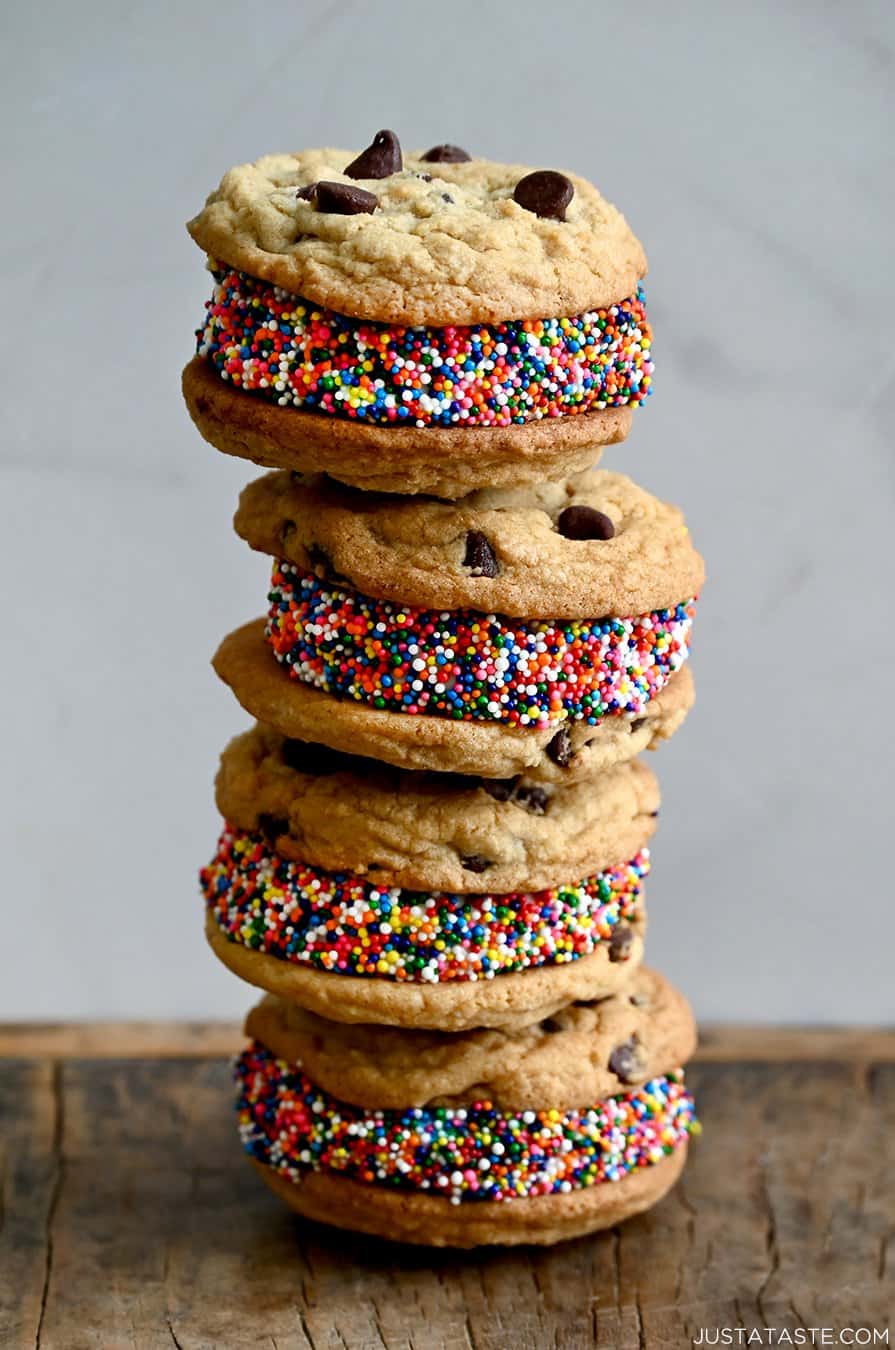 How to Store Them to Avoid Freezer Burn
After sandwiching the cookies together with ice cream, immediately roll them in sprinkles to ensure the decorative touch sticks. Place the ice cream cookie sandwiches on a baking sheet and pop them back into the freezer for an additional hour. Once they're set, transfer them to a large, sealable plastic bag. Alternately, you can wrap each ice cream sandwich in plastic wrap to safe-guard against icy crystals forming.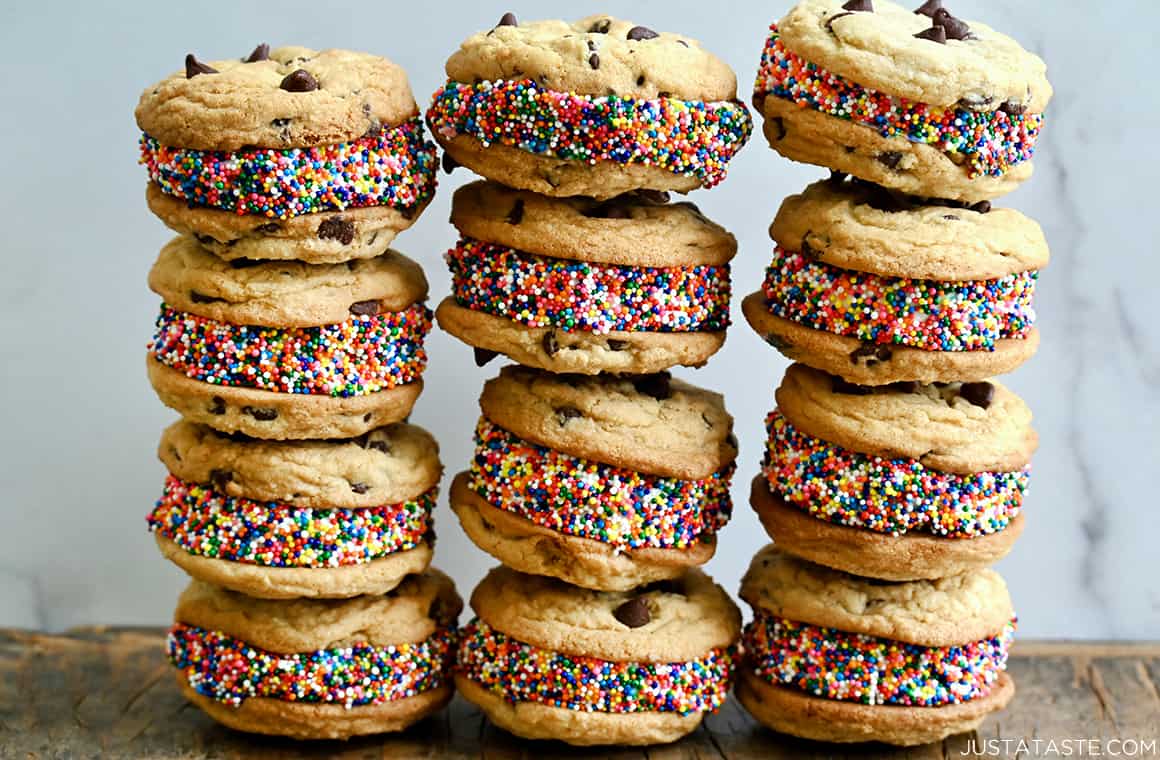 Craving more?
Subscribe to Just a Taste
to get new recipes and a newsletter delivered straight to your inbox! And stay in touch on
Facebook
,
Twitter
,
Pinterest
and
Instagram
for all of the latest updates.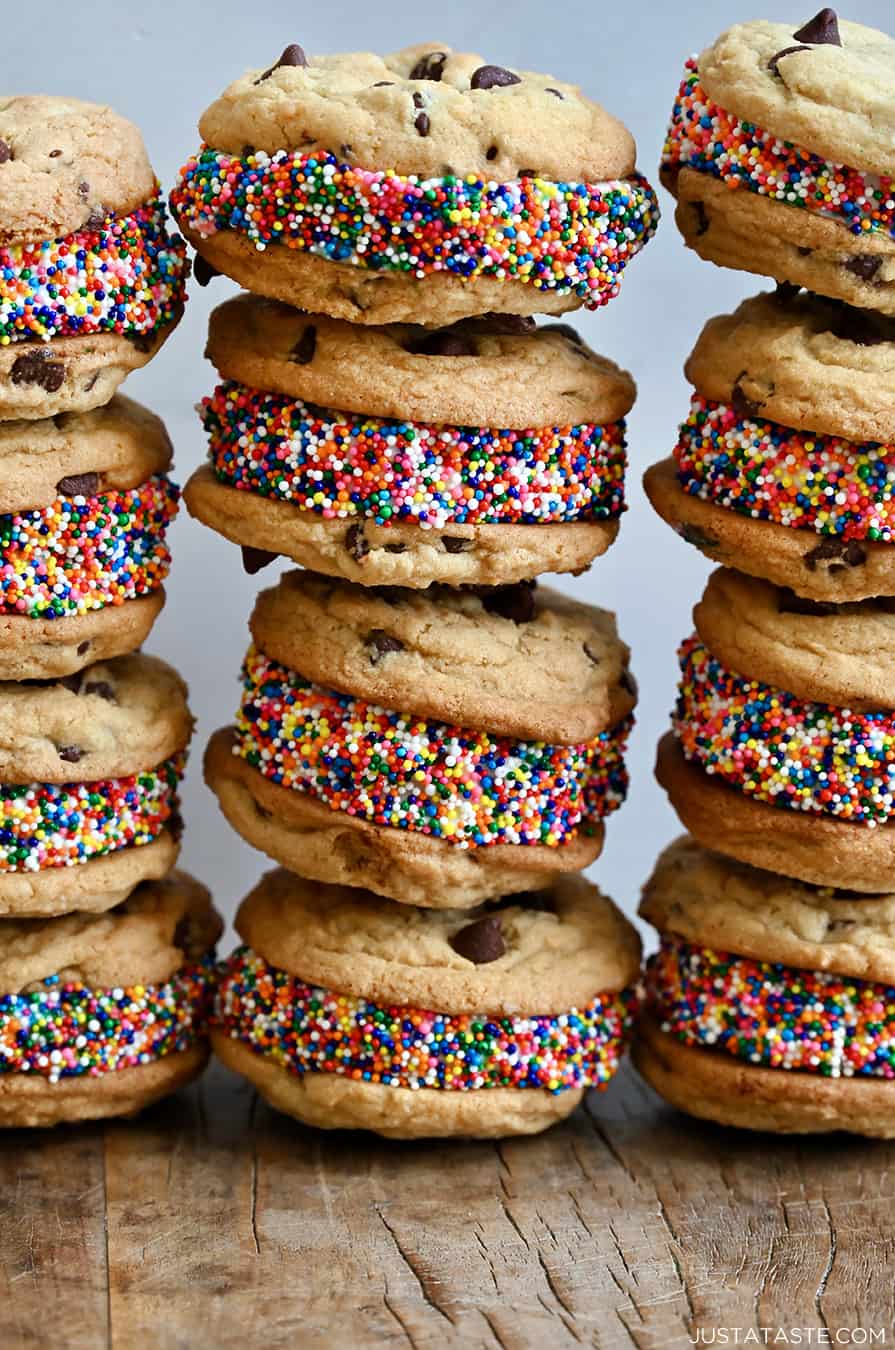 Ingredients
1

cup

unsalted butter, softened

¾

cup

white sugar

1 1/4

cups

packed light brown sugar

2

large eggs, cold

2 1/2

teaspoons

vanilla extract

3

cups

all-purpose flour

1

teaspoon

baking soda

1/2

teaspoon

baking powder

1/2

teaspoon

kosher salt

1 1/2

cups

semisweet chocolate chips

3

quarts

ice cream flavor of choice

Assorted sprinkles of choice
Instructions
Preheat the oven to 375°F. Line two baking sheet with parchment paper.

In the bowl of a stand mixer fitted with the paddle attachment, cream together the butter, white sugar and brown sugar until light and fluffy, about 2 minutes.

Add the eggs one a time, beating between each addition, then beat in the vanilla extract.

Add the flour, baking soda, baking powder and salt and beat just until combined, then beat in the chocolate chips.

Scoop 2-tablespoon mounds of dough onto the baking sheets, spacing each mound at least 2 inches apart.

Bake the cookies for 9 to 12 minutes, rotating the pans halfway through, until they are slightly crispy around the edges and barely set in the centers. Remove the cookies from the oven and let them cool for 5 minutes on the baking sheets before transferring them to a rack to cool completely.

Once the cookies have cooled completely, arrange half of them bottom side up on your work surface. Add a scoop of ice cream to each then press a second cookie on top to form sandwiches. Press sprinkles onto the sides where ice cream is exposed then wrap each sandwich securely in plastic wrap and place it in the freezer until frozen solid, a minimum of 4 hours, then serve. 
Nutrition
Calories:
1018
kcal
,
Carbohydrates:
127
g
,
Protein:
14
g
,
Fat:
51
g
,
Saturated Fat:
31
g
,
Polyunsaturated Fat:
2
g
,
Monounsaturated Fat:
14
g
,
Trans Fat:
1
g
,
Cholesterol:
173
mg
,
Sodium:
400
mg
,
Potassium:
695
mg
,
Fiber:
4
g
,
Sugar:
93
g
,
Vitamin A:
1520
IU
,
Vitamin C:
1
mg
,
Calcium:
357
mg
,
Iron:
3
mg