Swap the starch for all things green with a fast and fresh recipe for Crispy Baked Zucchini Fries.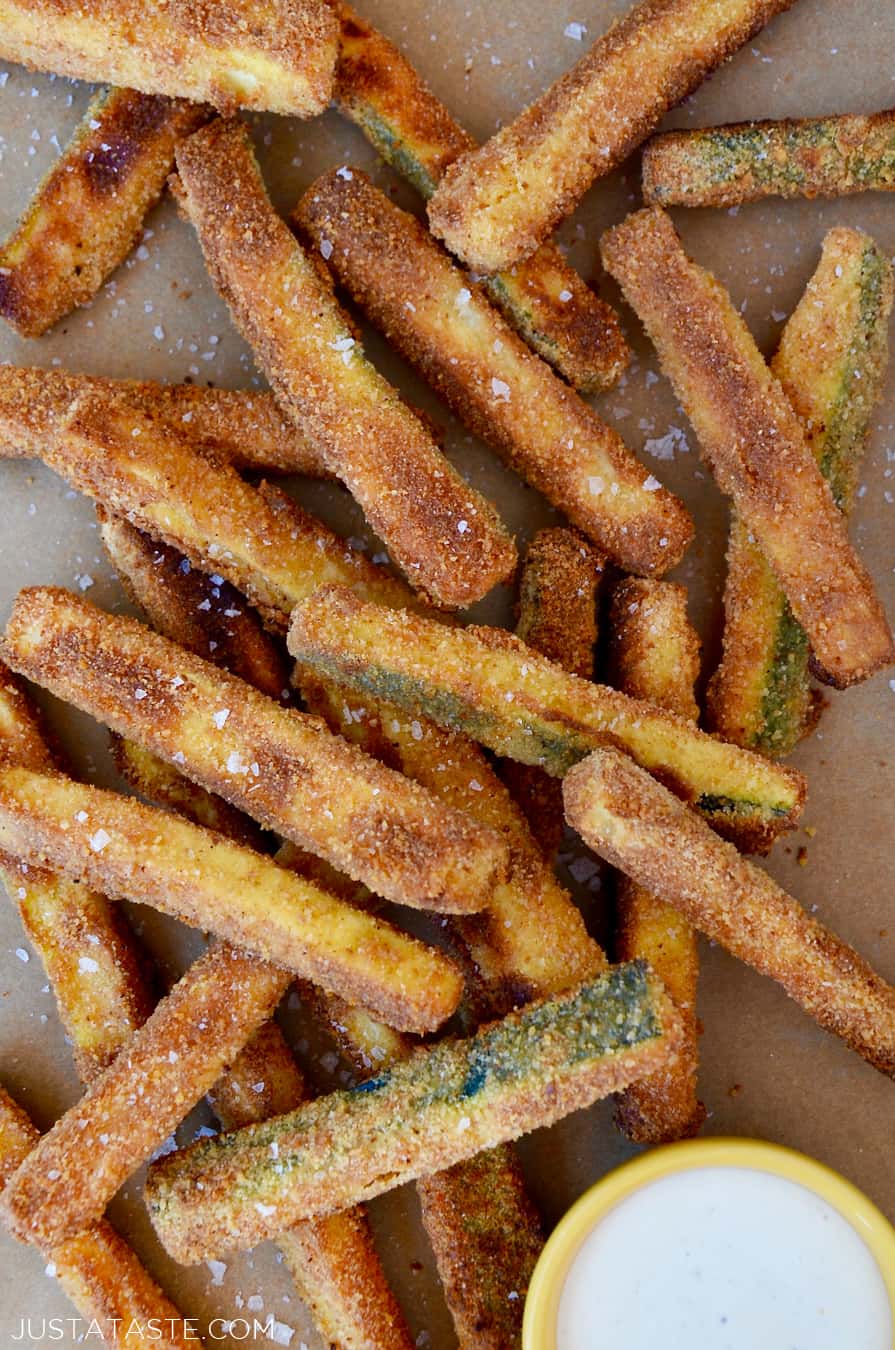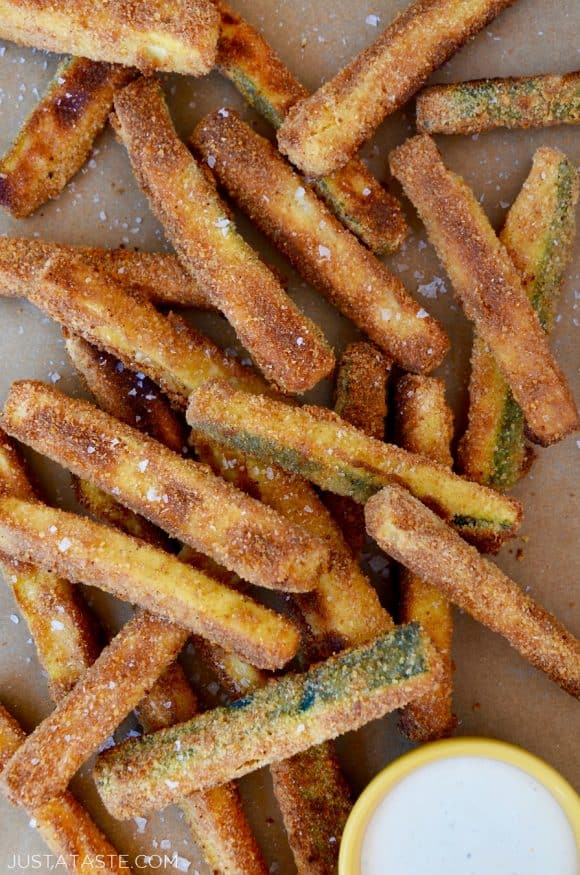 Few foods rank higher atop my list of favorites than French fries. Good ol' crispy, crunchy (but not too crunchy) golden brown batons of starchy spectacularness that can, should and absolutely WILL BE dunked in every condiment imaginable.
And that leads me to the following question: Are you a fries-n-ketchup type? Or more of a mustard lover? Perhaps a Ranch dressing diehard? Maybe a rare but devoted mayo maniac? Or a tangy barbecue buff?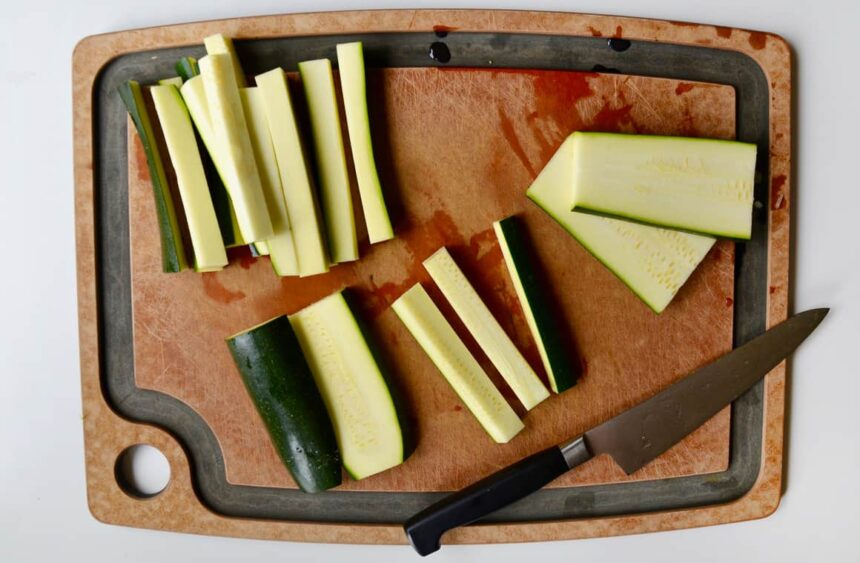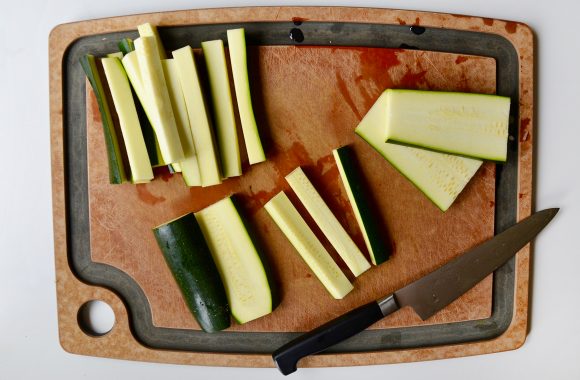 I will be the first to admit it: I am a condiment fanatic. Ketchup, barbecue and Ranch dressing are my dips-o-choice, and I unfortunately (or maybe fortunately, depending on your spud school of thought) like to douse my fries so heavily in said sauces that even my 2-year-old gives me the look.
It's a look that says, "Mommy, you are embarrassing me." And yet dip and dunk with fervor I shall.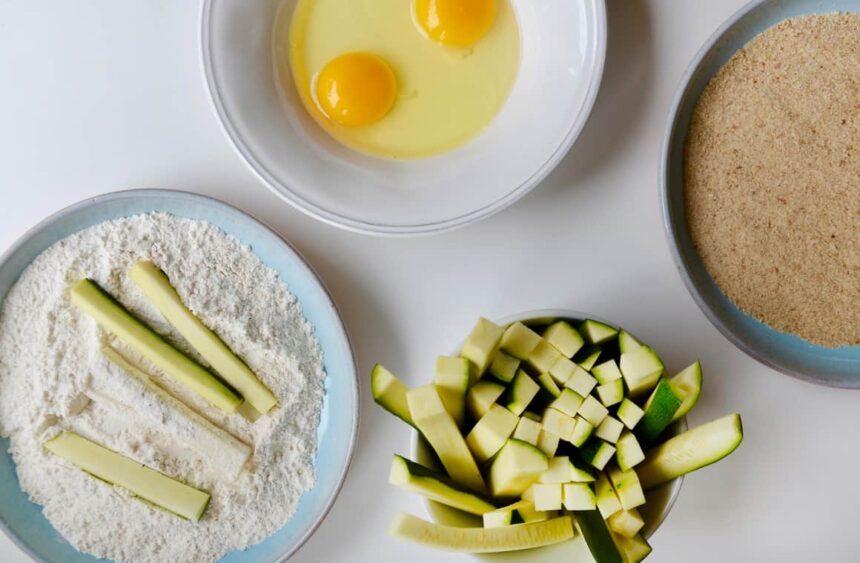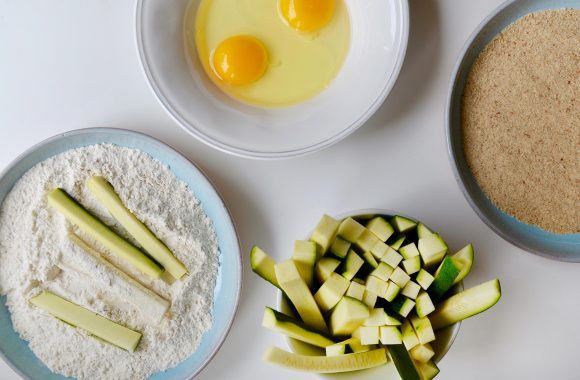 So here we are, smack-dab in the center of summer. And you know what they say. "Summer bodies are made in the winter." Well, let's just recap that I had baby #2 in February, so my winter diet looked a little something like this:
40% doughnuts (this recipe, obviously)
8% chicken pot pie (cravings will be cravings)
2% broccoli tots (dunked in, again, an embarrassing amount of Ranch dressing)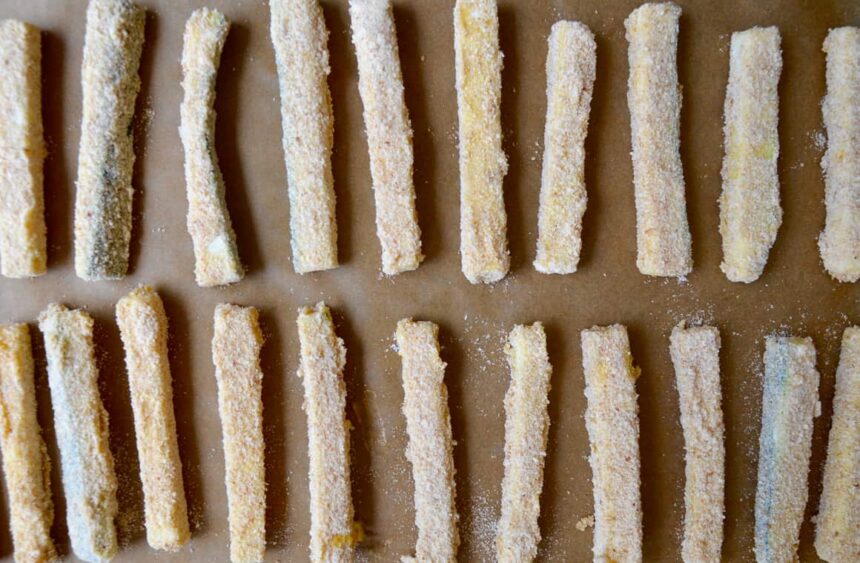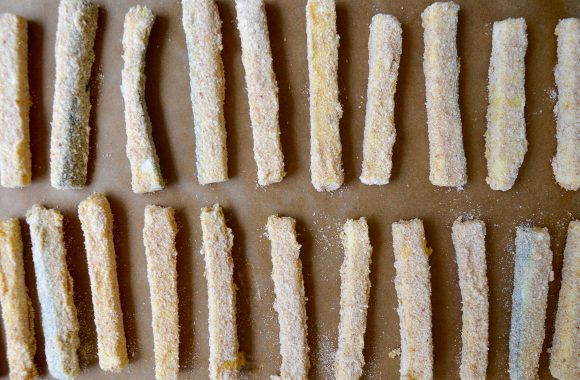 Bottom line: I'm trying to make up for lost time here, people. My gym membership consists of carrying around 54 pounds of babies while wrangling a spaztastic yellow lab. So potatoes are gone. And in their place, Z-U-C-C-H-I-N-I (sung to the tune of Gwen's B-A-N-A-N-A-S).
Crispy Baked Zucchini Fries are that super simple swap for starchy spuds that still lets your taste buds think you're chowing down on deep-fried potatoes. Trickery at its finest. And the best news of all is that I still dip them in an array of condiments to make up for lost calories. After all, everyone knows that winter bodies are made in the summer.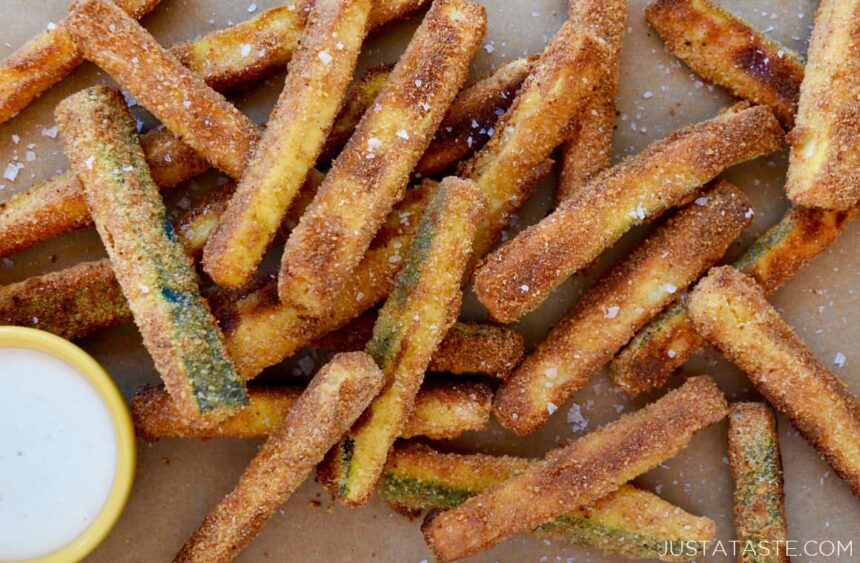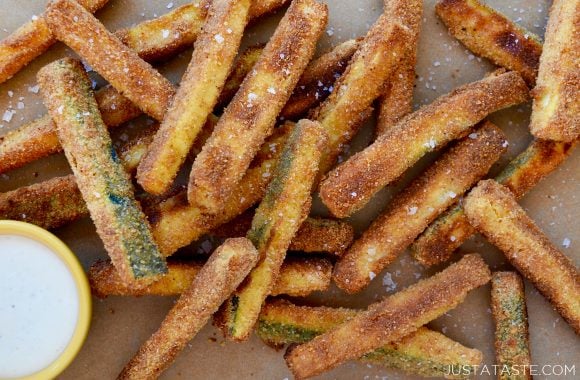 Craving more? Subscribe to Just a Taste to get new recipes, meal plans and a newsletter delivered straight to your inbox! And stay in touch on Facebook, Twitter, Pinterest and Instagram for all of the latest updates.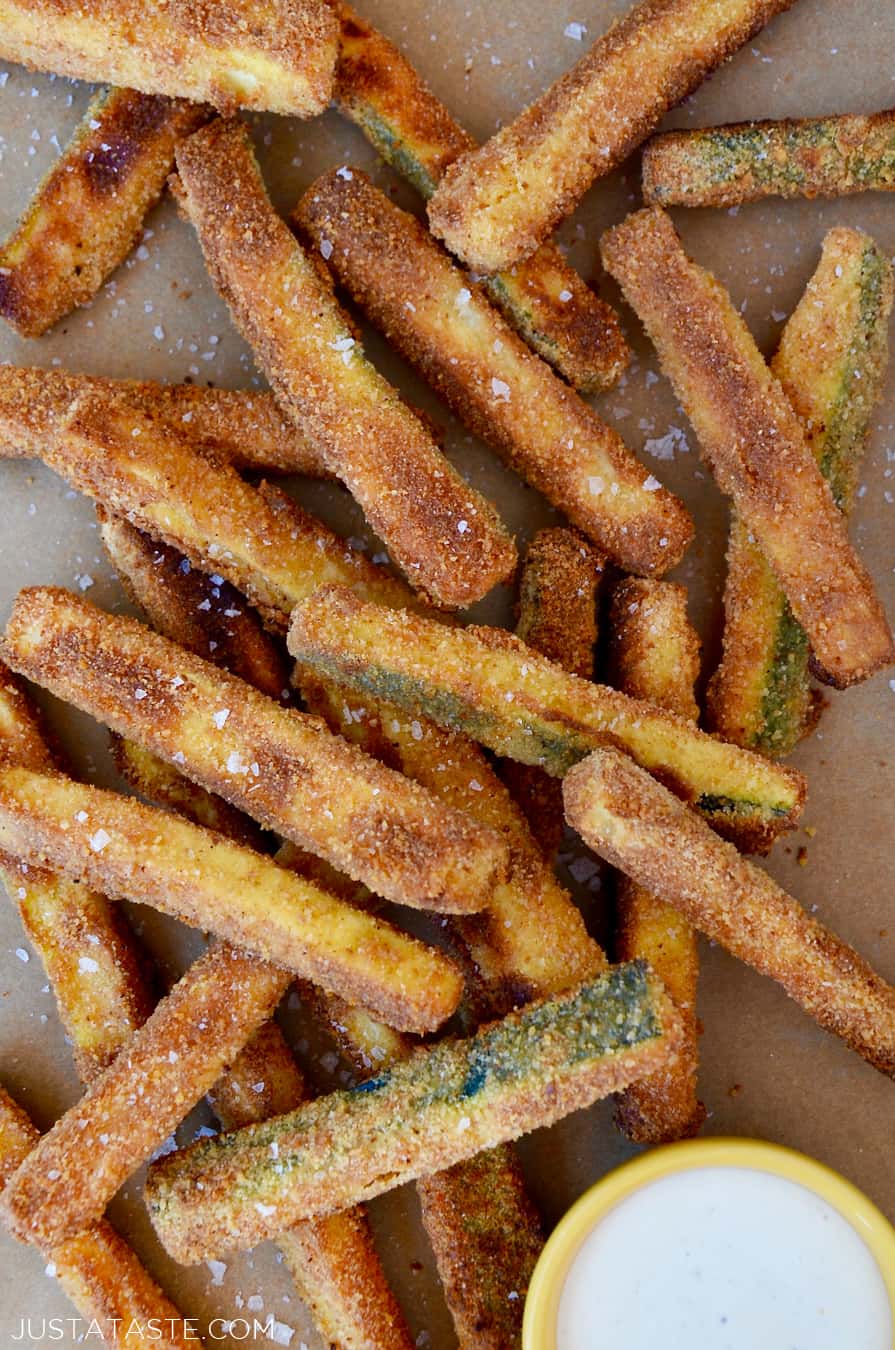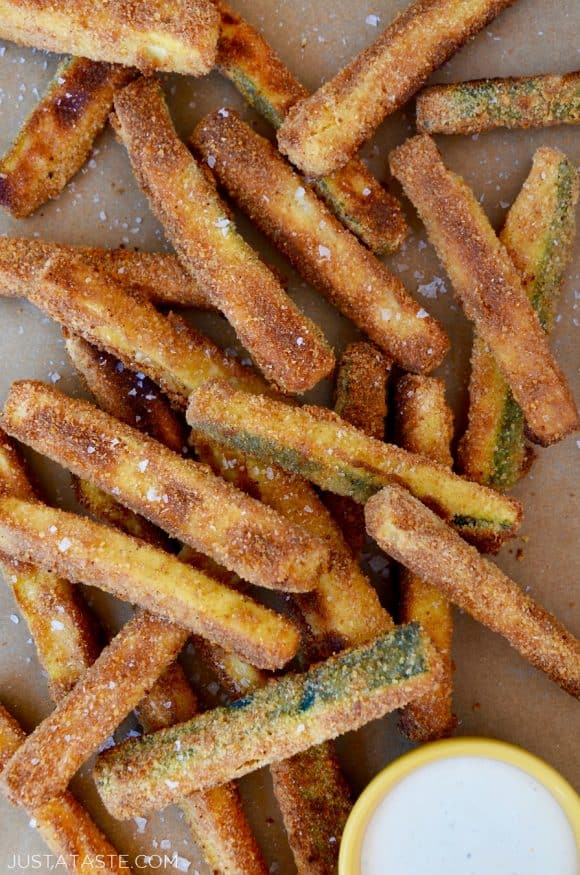 Ingredients
3

medium zucchini

1/2

cup

all-purpose flour

1

teaspoon

garlic powder

2

large eggs

1

cup

breadcrumbs

Cooking spray
Instructions
Preheat the oven to 425°F and line a baking sheet with parchment paper.

Trim the ends off the zucchini then cut them in half widthwise. Cut each half into roughly 1/2-inch-thick fries.

In a shallow dish, whisk together the flour and garlic powder with 1 teaspoon salt and ½ teaspoon pepper.

In a separate shallow dish, whisk together the eggs. Add the breadcrumbs to a third shallow dish.

Dredge the zucchini fries in the flour, shake off any excess, then dip them in the eggs and then into the breadcrumbs, coating them on all sides. Arrange the zucchini fries in a single layer on the baking sheet.

Spray the zucchini fries with cooking spray (optional) and bake them for 18 to 20 minutes, turning them once halfway through, until they are golden brown and crispy.

Remove the zucchini fries from the oven and serve them with ketchup, marinara or Ranch dressing for dipping.

★ Did you make this recipe? Don't forget to give it a star rating below!
Nutrition
Calories:
222
kcal
,
Carbohydrates:
36
g
,
Protein:
9
g
,
Fat:
4
g
,
Saturated Fat:
1
g
,
Cholesterol:
81
mg
,
Sodium:
241
mg
,
Potassium:
492
mg
,
Fiber:
3
g
,
Sugar:
5
g
,
Vitamin A:
415
IU
,
Vitamin C:
26.3
mg
,
Calcium:
85
mg
,
Iron:
3
mg
Recipe by Kelly Senyei of Just a Taste. Please do not reprint this recipe without my permission. If you'd like to feature this recipe on your site, please rewrite the method of preparation and link to this post as the original source.