Whip up a DIY take on a Mexican food staple with a quick and easy recipe for Homemade Corn Tortillas made with just two ingredients.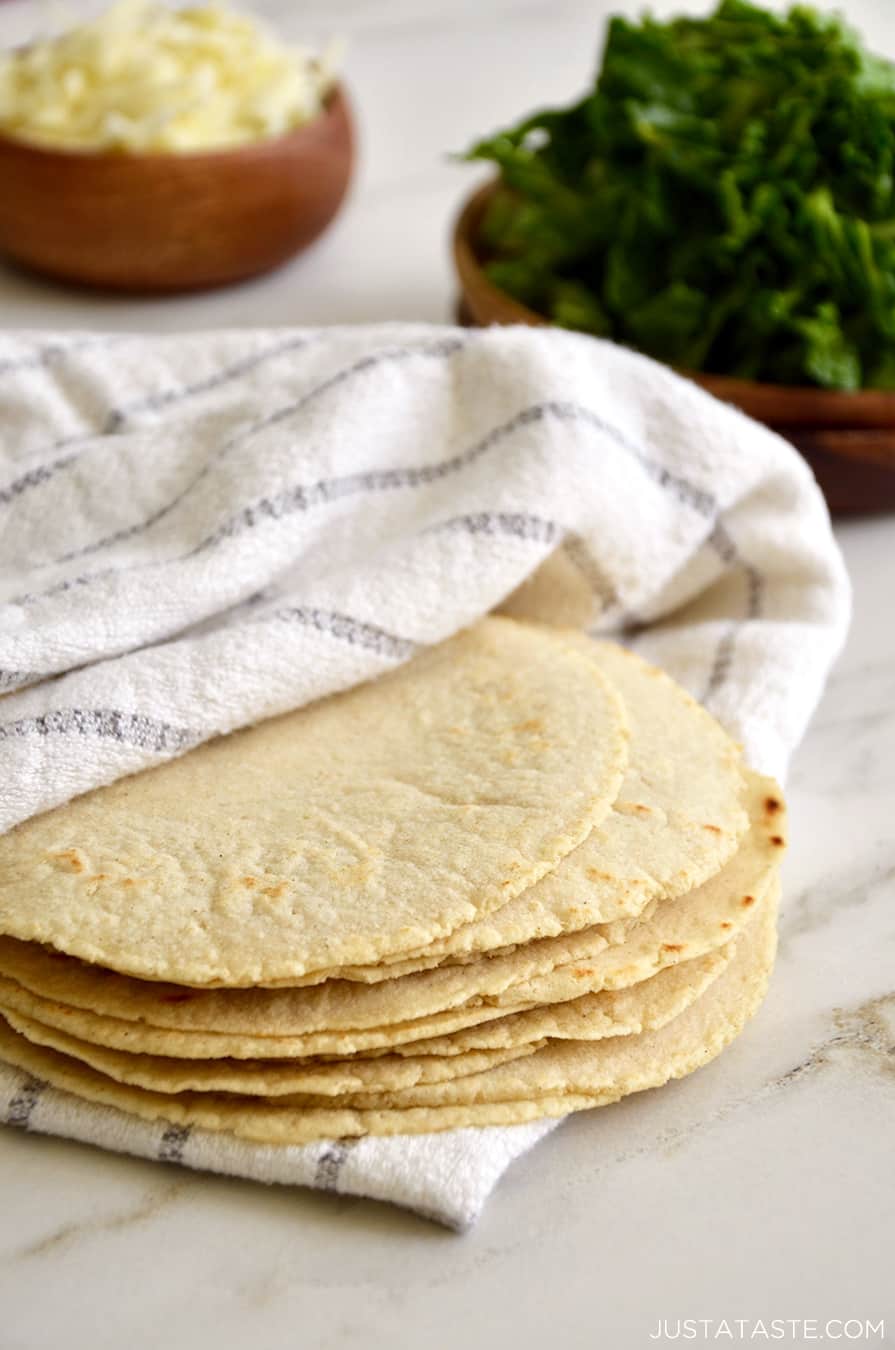 Corn tortilla lovers, meet your match!
It's been some time since 30-Minute Homemade Flour Tortillas made their debut here, but boy, oh boy, you all have not wasted a single second whipping them up in your kitchens!
Thousands of people turn to that recipe on the daily, and if there's any feedback beyond the common, "I am never buying tortillas again!" it's always, "Can you share a recipe for homemade corn tortillas?"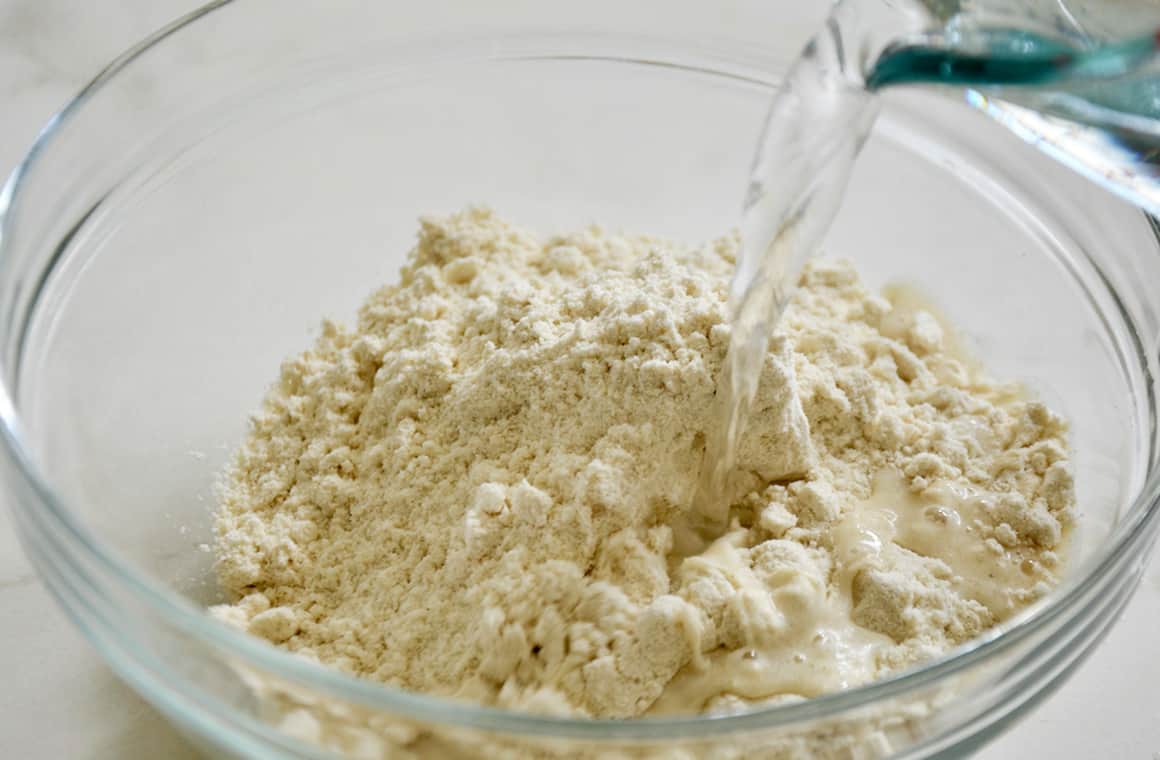 Ask and ye shall receive!
How Do You Make Corn Tortillas?
Much like its' flour counterpart, homemade corn tortillas are surprisingly simple to make. You only need two ingredients:
Masa harina (also known as maseca; commonly found by the flour in all major supermarkets)
Hot water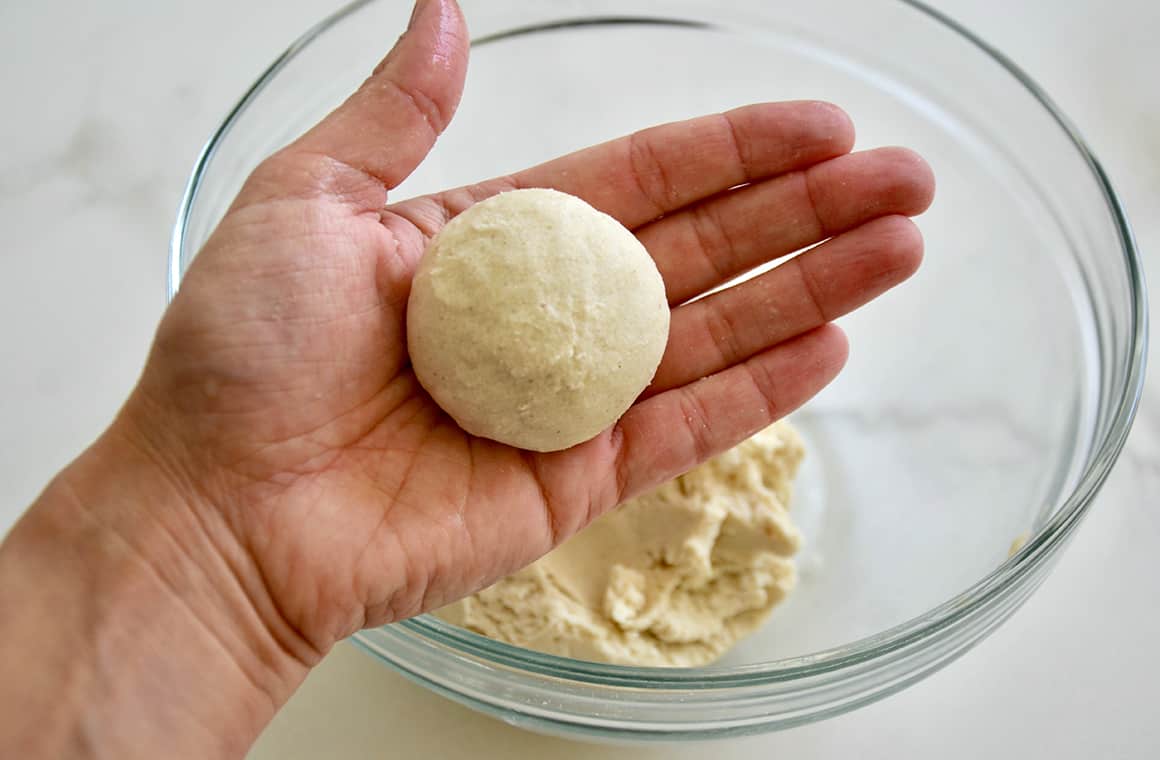 Do you need a tortilla press to make corn tortillas?
Absolutely not! Aside from the short ingredient list, there is no special equipment needed to make corn tortillas from scratch.
You can use a traditional tortilla press if you have one, but I never like to let equipment prevent me from making magic in the kitchen. If you do not have a tortilla press, a flat-bottomed baking dish or skillet will also do the trick. (You'll just need to use a bit more muscle!)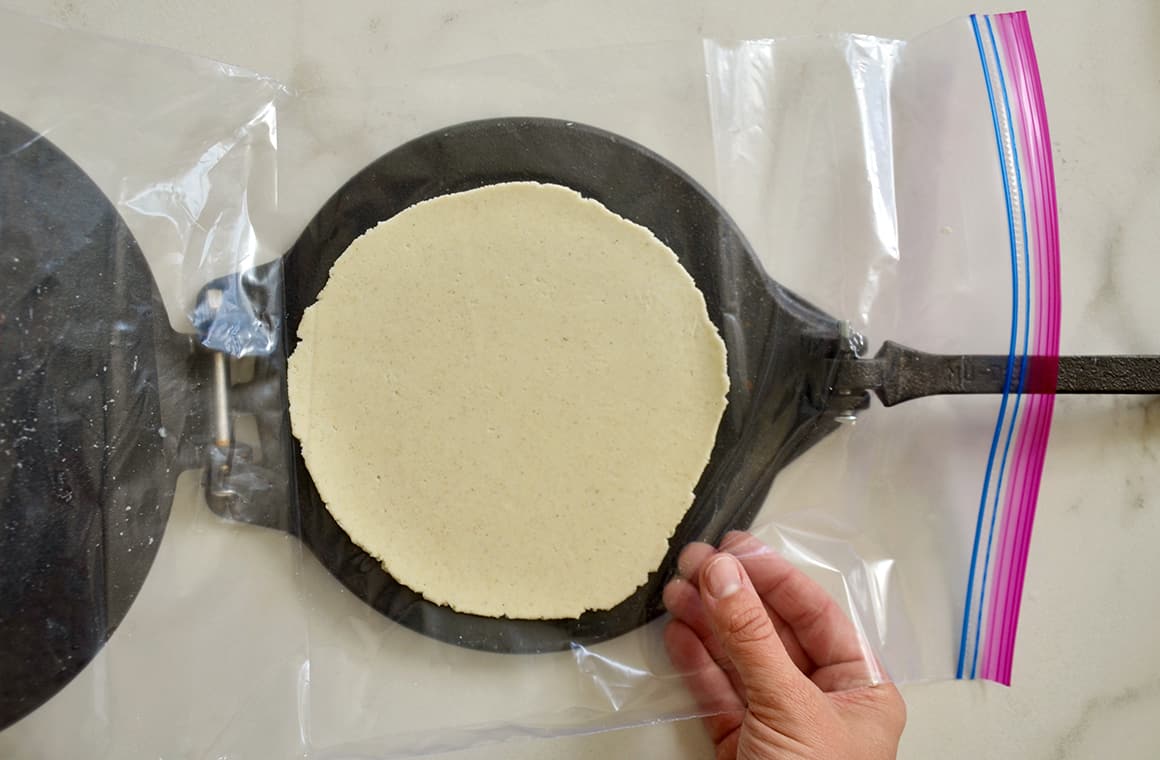 What's the secret to making restaurant-worthy corn tortillas?
I'm all about a good secret ingredient, but in the case of this recipe, it all comes down to a secret technique. There are three critical steps when it comes to perfecting your corn tortilla technique:
Use hot, hot water (if you've made my flour tortillas, you know this makes all the difference!)
Wet your hands when shaping the dough to ensure smooth edges all around
Stack the cooked tortillas atop one another in a towel so that they steam one another and result in pillowy soft tortillas
Ready to try your hand at homemade corn tortillas? Read on for the recipe and get ready to take your tacos, enchiladas and quesadillas to a whole new level!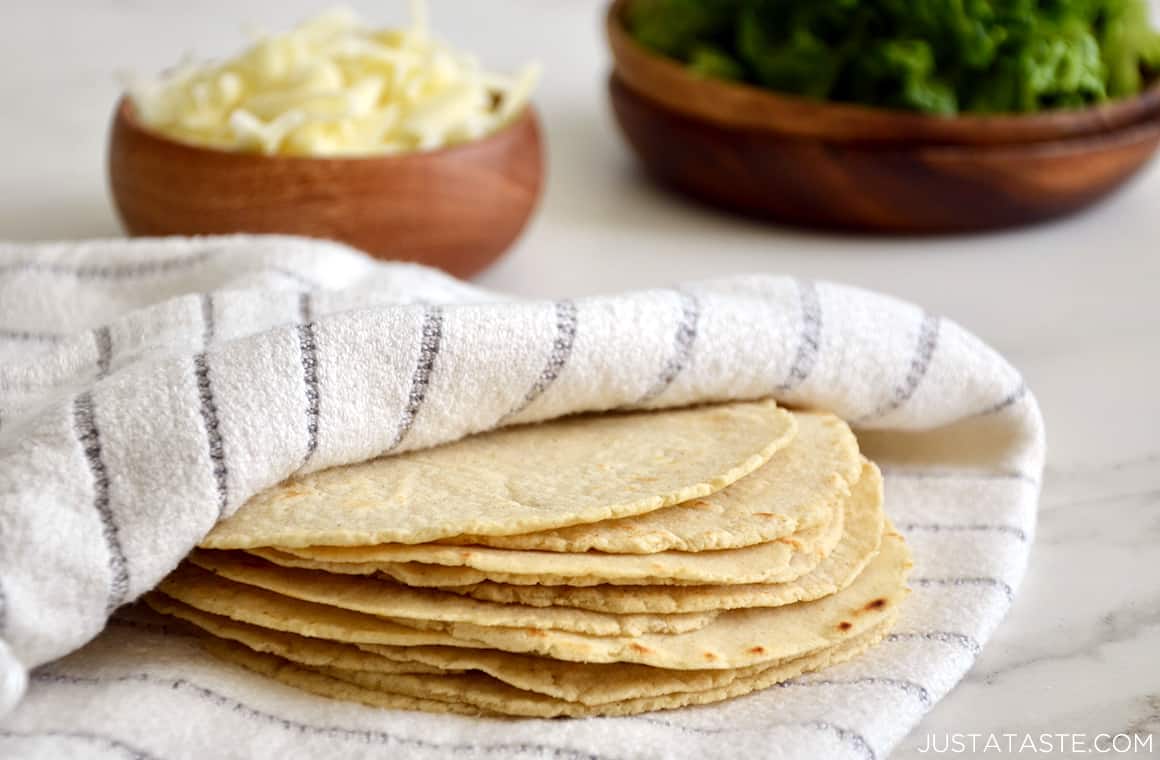 Craving more?
Subscribe to Just a Taste
to get new recipes and a newsletter delivered straight to your inbox! And stay in touch on
Facebook
,
Twitter
,
Pinterest
and
Instagram
for all of the latest updates.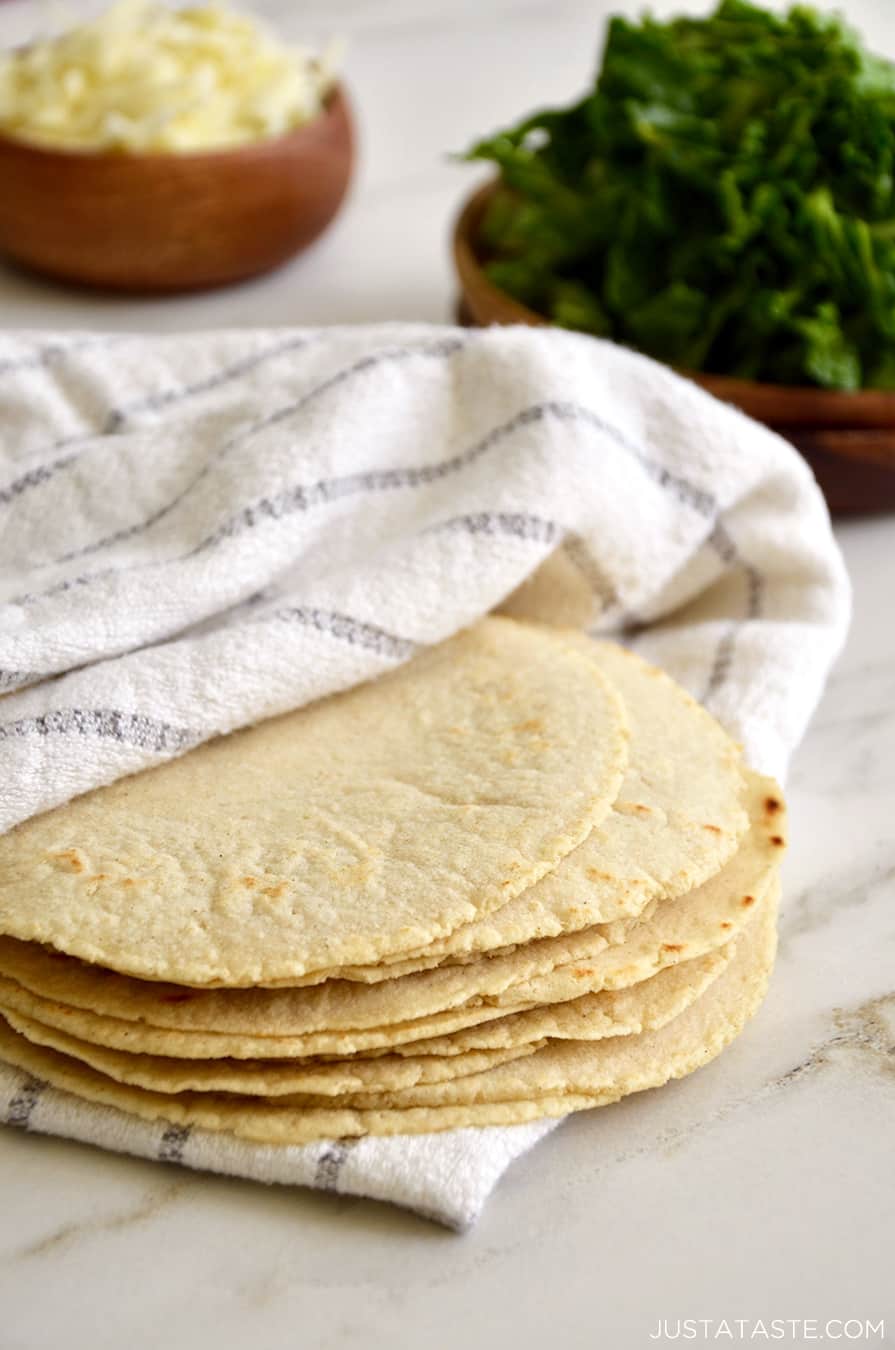 Equipment
Sealable plastic bag

Tortilla press, skillet or flat-bottomed baking dish
Ingredients
2

cups

masa harina or maseca

1 1/2

cups

hot water
Instructions
In a medium bowl, combine the masa harina and hot water. Using your hands, mix the ingredients together until well-combined. (The mixture should resemble the consistency of Play-Doh.) Cover the bowl with a towel and let it rest for 10 minutes.

Fill a small bowl with water. Open the sealable plastic bag then cut along the longer sides to form one long rectangle of plastic that's still sealed together at the bottom of the bag.

Pinch off pieces of the dough (for 6-inch tortillas, use roughly 3 tablespoons of dough). Lightly wet your hands then gently compress the mixture and roll it into a ball, flattening it slightly into a puck. (The water will ensure the edges of your tortillas are smooth and not jagged or cracked.)

Place a nonstick skillet over medium heat.

Is using a tortilla press: Open the plastic bag so that it's stretched across the open press. Place the dough on one side of the plastic bag then fold over the other side so that the dough is contained between two layers of plastic. Close the press and hold it down firmly to flatten the tortilla until it's roughly 1/4-inch thick.

If using a skillet or baking dish: Place the dough on one side of the plastic bag then fold over the other side so that the dough is contained between two layers of plastic. Place a skillet or baking dish atop the dough then press down firmly to flatten the tortilla until it's roughly 1/4-inch thick.

Peel the plastic off the tortilla then transfer it to the hot pan and cook it for 1 to 2 minutes until it becomes puffy. Flip it once and cook an additional 1 minute then place it inside a towel. Repeat the shaping and cooking process with the remaining dough, stacking the cooked tortillas on top of one another inside the folded towel. (The steam from the hot tortillas will aid in keeping them soft as they cool.)
Kelly's Note:
You can make any size corn tortillas, so feel free to scale up or down the size of your dough ball accordingly.
Nutrition
Calories:
832
kcal
,
Carbohydrates:
174
g
,
Protein:
21
g
,
Fat:
9
g
,
Saturated Fat:
1
g
,
Sodium:
29
mg
,
Potassium:
600
mg
,
Fiber:
15
g
,
Vitamin A:
488
IU
,
Calcium:
321
mg
,
Iron:
17
mg