You're only one ingredient and a not-so-secret technique away from refreshingly crunchy and healthy Fruit Shaved Ice! This recipe takes just 5 minutes to make with a food processor and can be made with any type of frozen fruit.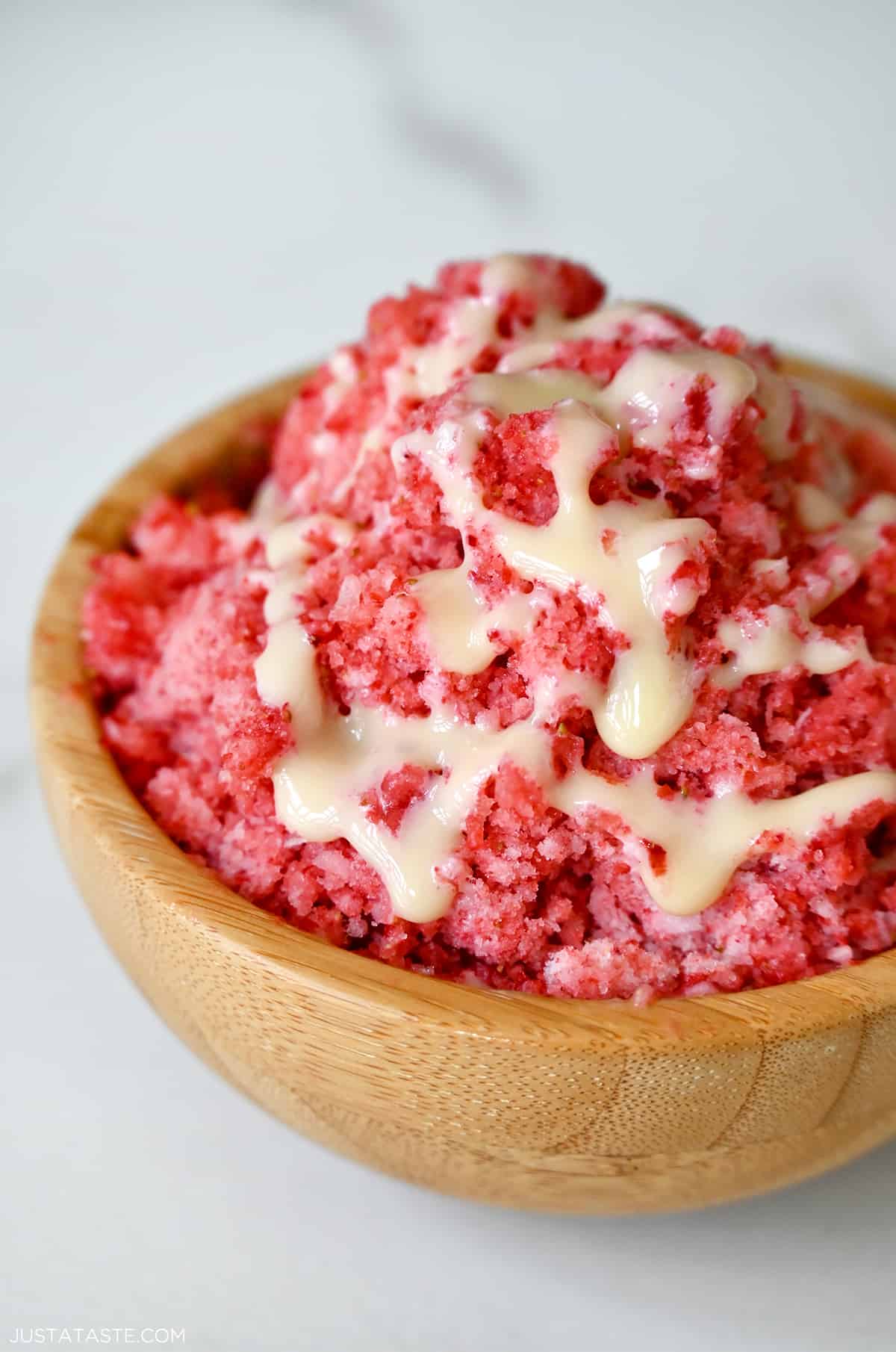 Chilled treats are a family favorite at our house. We've blended up nearly every flavor imaginable of 5-minute healthy frozen yogurt, snacked on dozens of frozen chocolate-covered bananas and layered every combination possible in the easiest-ever ice cream cake. But easy frozen treats just took on a whole new meaning with a simple technique that transforms any frozen fruit into homemade shaved ice!
Shaved ice, also known as snow cones or shaved snow, has its roots in Japan's Heian period, dating back to approximately one thousand years ago. This dessert, known as kakigori, was made by shaving a block of ice and mixing it with sweet syrup. It then spread to other parts of the world, including Korea (known as bingsu), Hawaii (known as ice shave or shave ice) and the Philippines (known as halo-halo), where it became a popular street food.
Today, it's found in various forms and flavors around the world. In Hawaii, for example, it's served with tropical flavors such as guava, passion fruit and coconut, while in Korea it is often topped with condensed milk and fruit. It's typically made using an electric or hand-cranked ice shaver and has a light and fluffy texture.
Now you can skip the fancy machine and sweet syrups for the ultimate healthy twist on this summertime favorite! Gone is the ice and in its place is one simple ingredient: frozen fruit. Read on for how to whip up this healthy, flavor-packed dessert in mere minutes.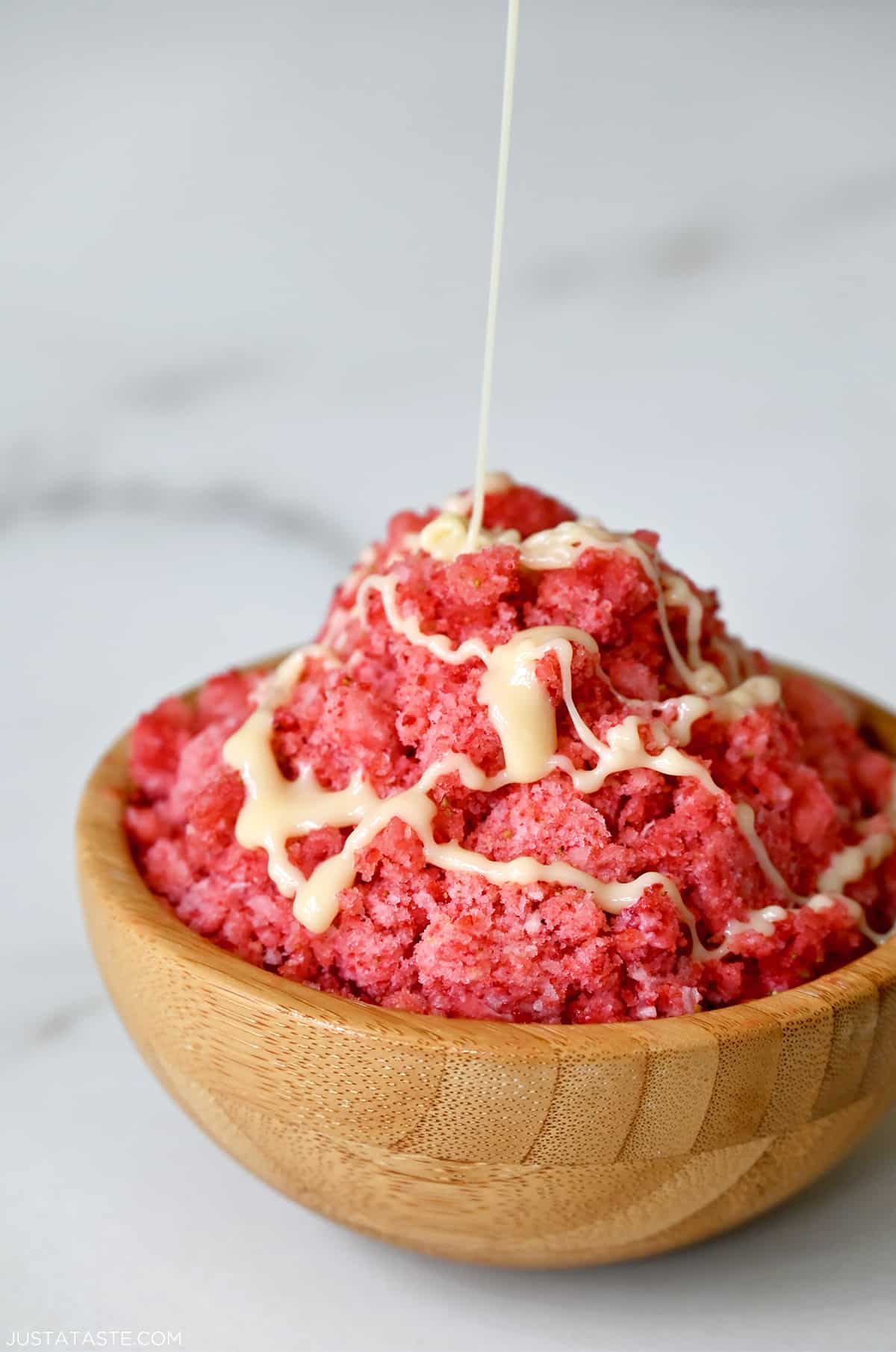 Why You'll Love this Recipe
Made with one ingredient: frozen fruit.
Can be made with any type of frozen fruit.
Takes less than 5 minutes to make.
Is cool, crunchy, refreshing and healthy!
Frozen fruit: Take your pick from strawberries, mango, pineapple, peaches and any other fruit you enjoy. Whichever fruit you choose, just make sure it is frozen solid.
Sweetened condensed milk: This is an optional topping and is often traditionally served drizzled atop shaved ice. Depending on how sweet the fruit is that you choose, you may or may not want to up the dessert factor with additional sugar.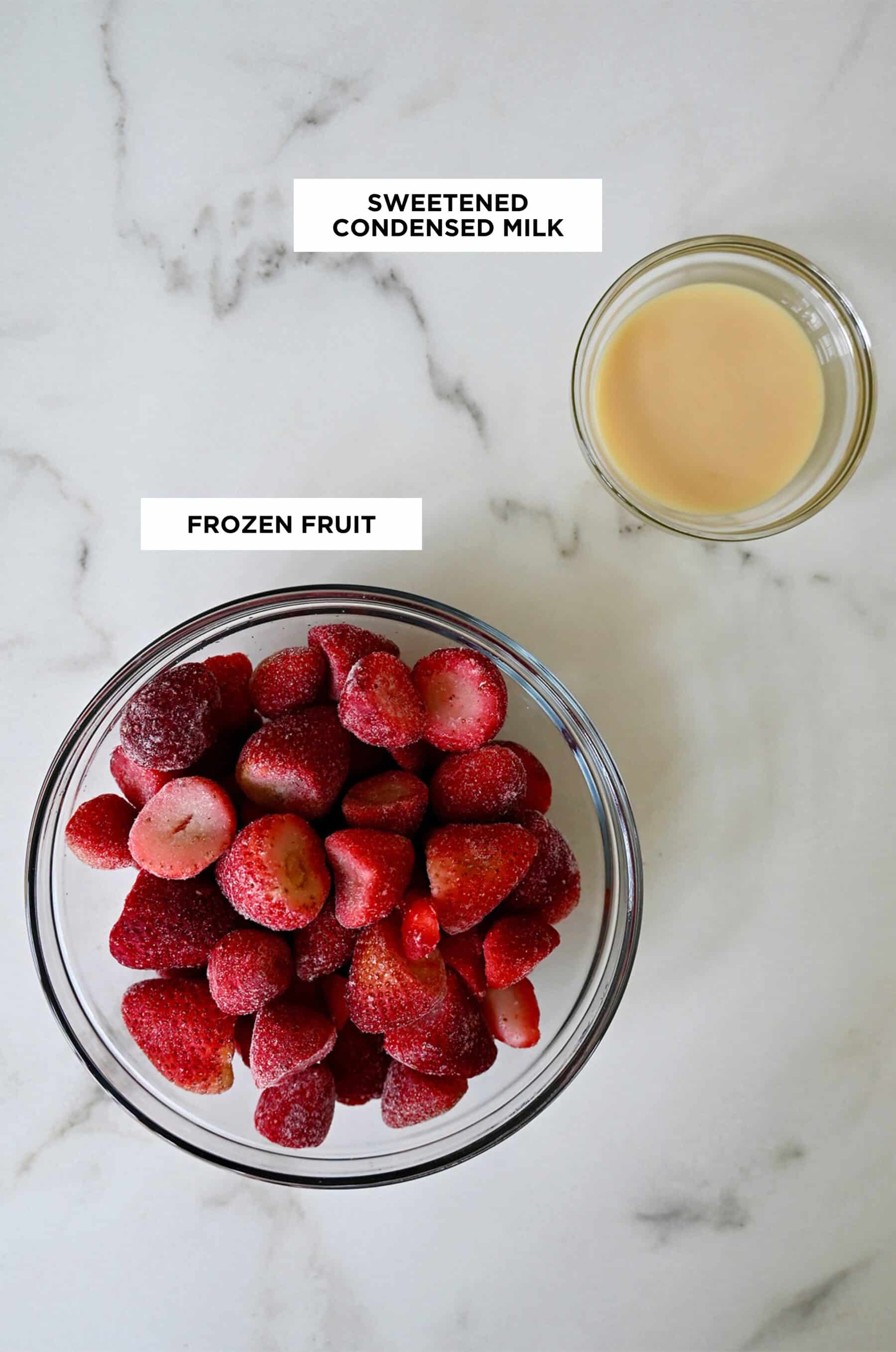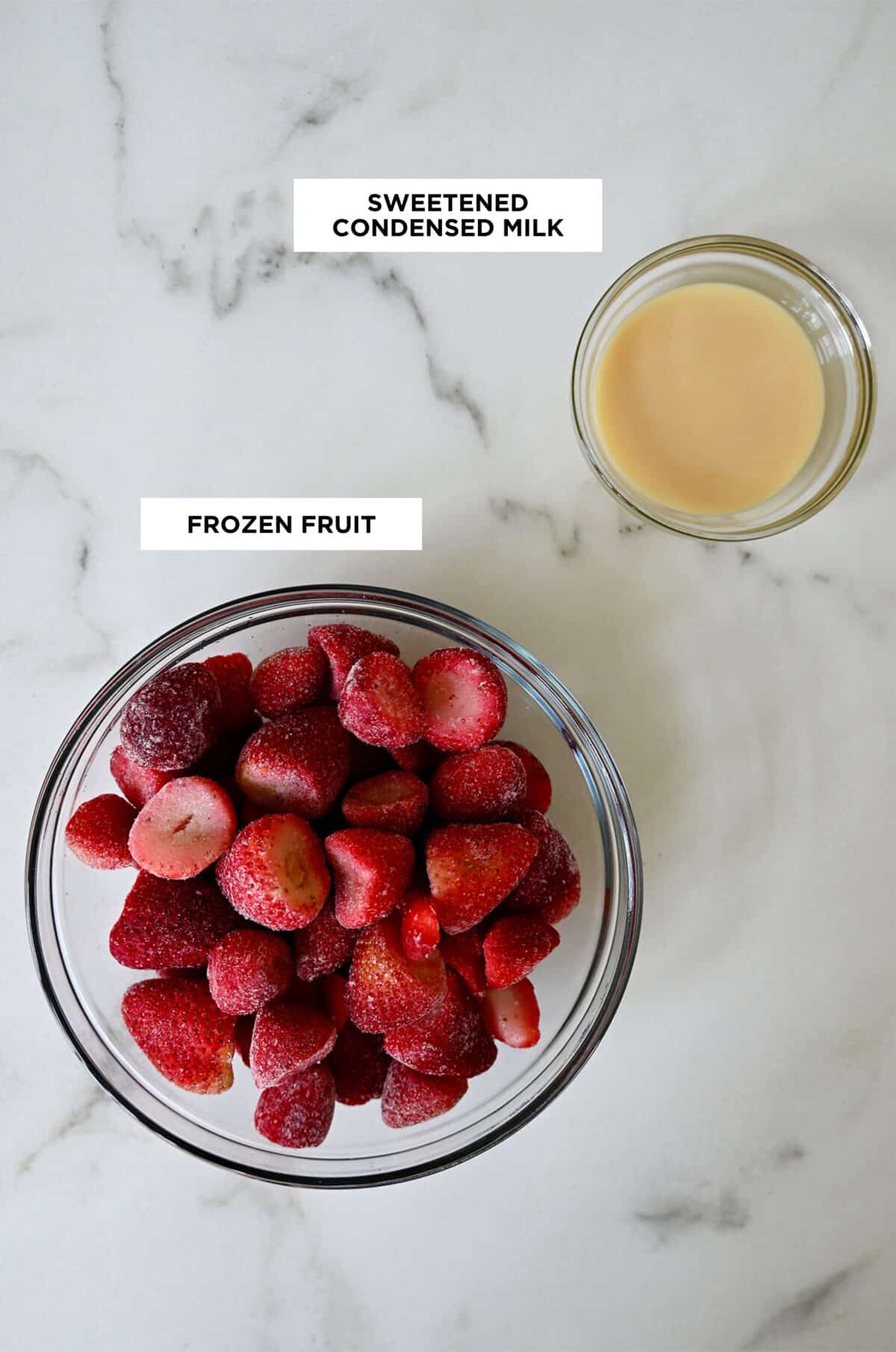 Attach the shredding blade to your food processor. I tested this technique with and without using the shredded blade and the shaved ice was much fluffier when the fruit passed through the shredder. I also recommend removing the blade at the bottom of the food processor bowl.
Turn on the food processor. Crank up the speed and ensure your processor is running for Step 3!
Add the frozen fruit. Use the tamper to push the frozen fruit with force down into the food processor. The larger the pieces of fruit, the firmer you will need to push.
Serve! Spoon the shaved ice into bowls and enjoy plain or top with a drizzle of sweetened condensed milk.
The shaved ice (or technically, shaved fruit!) is best enjoyed immediately. It won't melt as fast as ice, but you don't want to let it linger for too long.
Thicker, larger frozen fruits, such as strawberries, require a bit of muscle to pass through the shredding blade.
Don't hesitate to mix and match! Keep it simple with one flavor or combine a few fruits for a multi-flavored treat.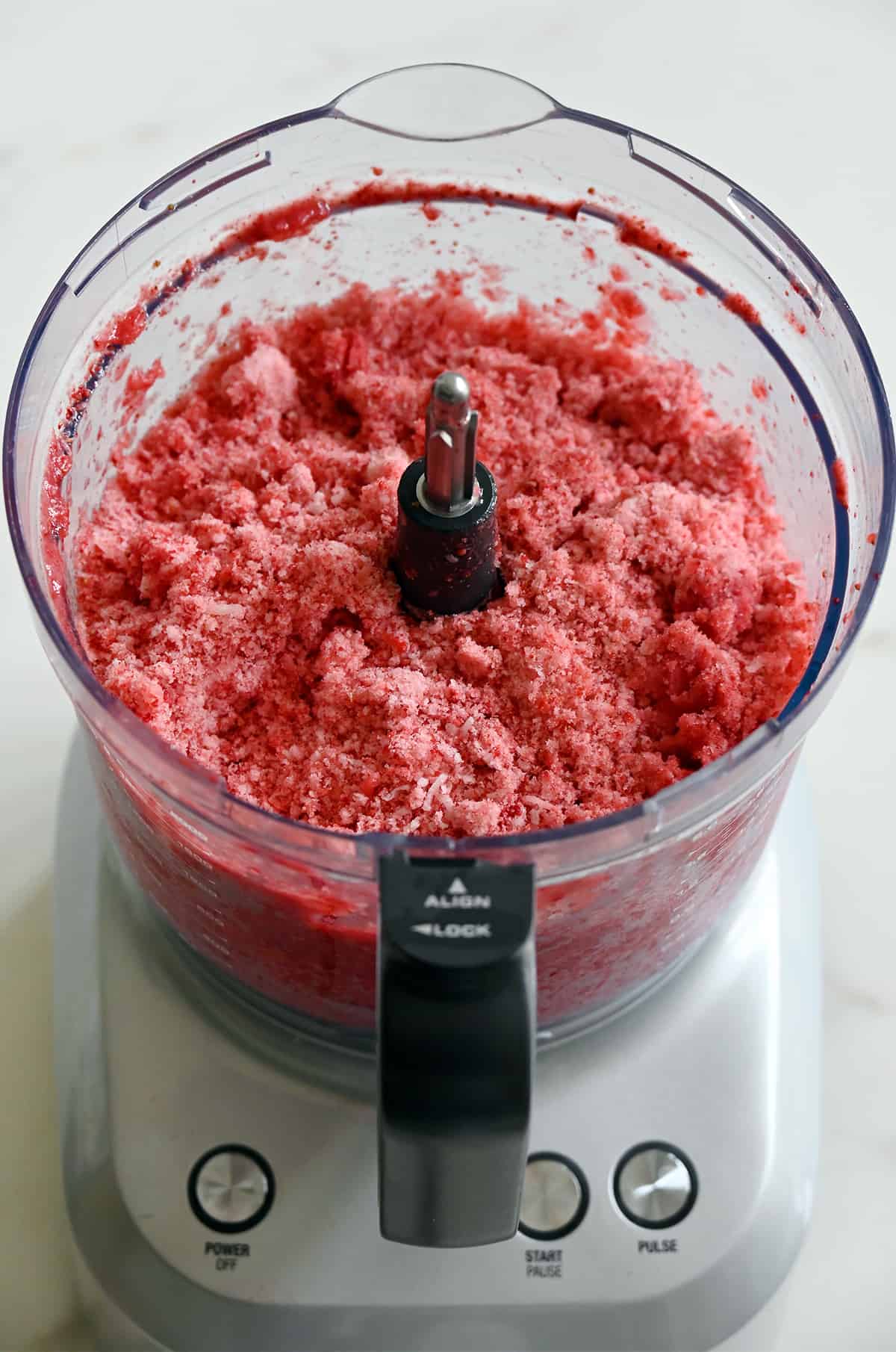 FAQs
Can you make shaved ice in a blender?
I don't recommend using a blender to make shaved ice, as the blender jug isn't wide enough to really shred the fruit without mashing it into a purée. A food processor with a shredding attachment creates light, fluffy, snow-like fruit ice.
Does this recipe work with any frozen fruit?
Yes! It's important that the fruit is frozen-solid and in small enough pieces to fit through the tube of the food processor.
Can you make this ahead of time?
I don't recommend making this recipe ahead of time, as it melts quickly (just like shaved ice). If you attempt to make it ahead and stash it in the freezer, it will freeze back into a completely solid state.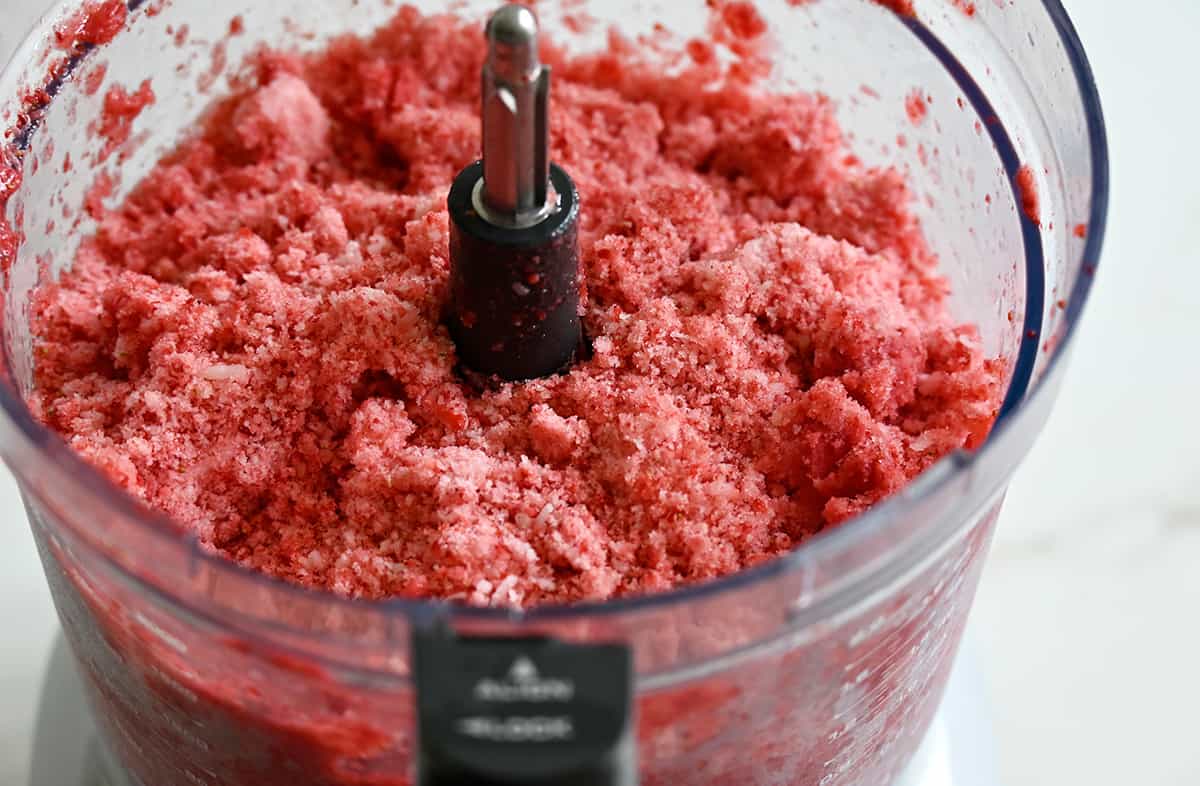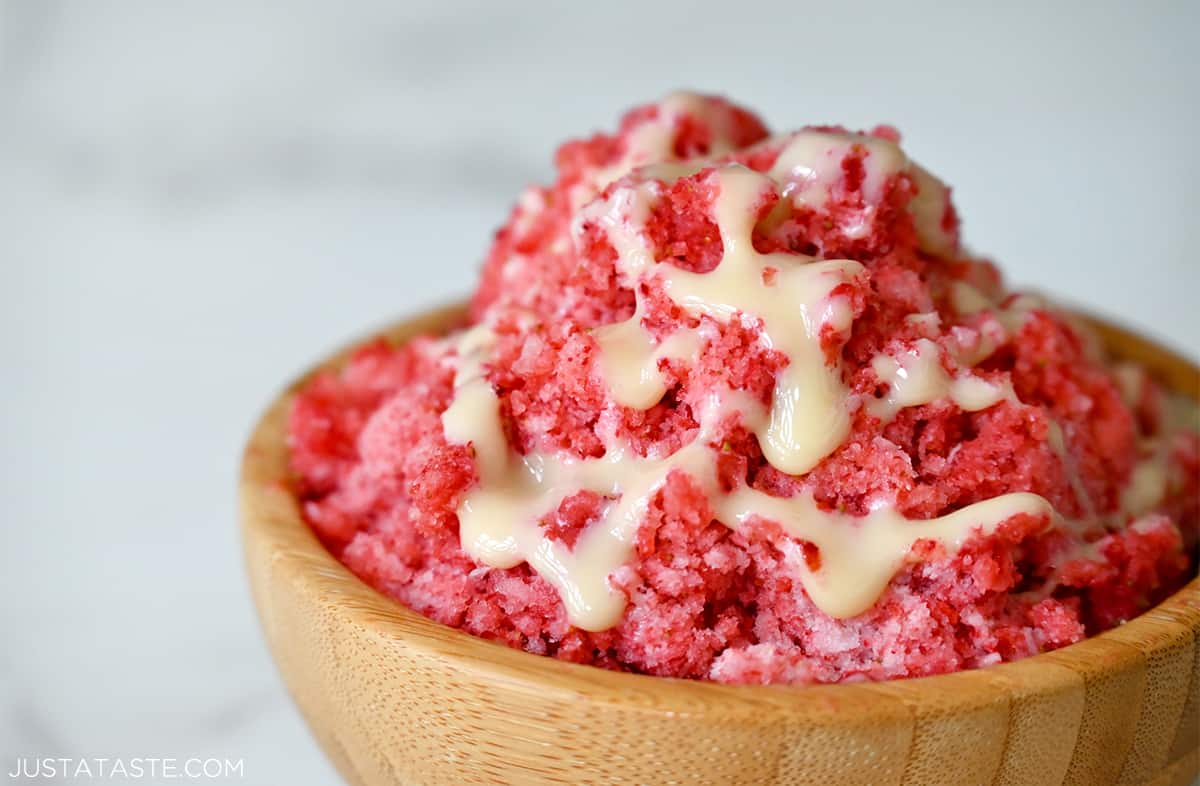 Craving more?
Subscribe to Just a Taste
to get new recipes and a newsletter delivered straight to your inbox! And stay in touch on
Facebook
,
Twitter
,
Pinterest
and
Instagram
for all of the latest updates.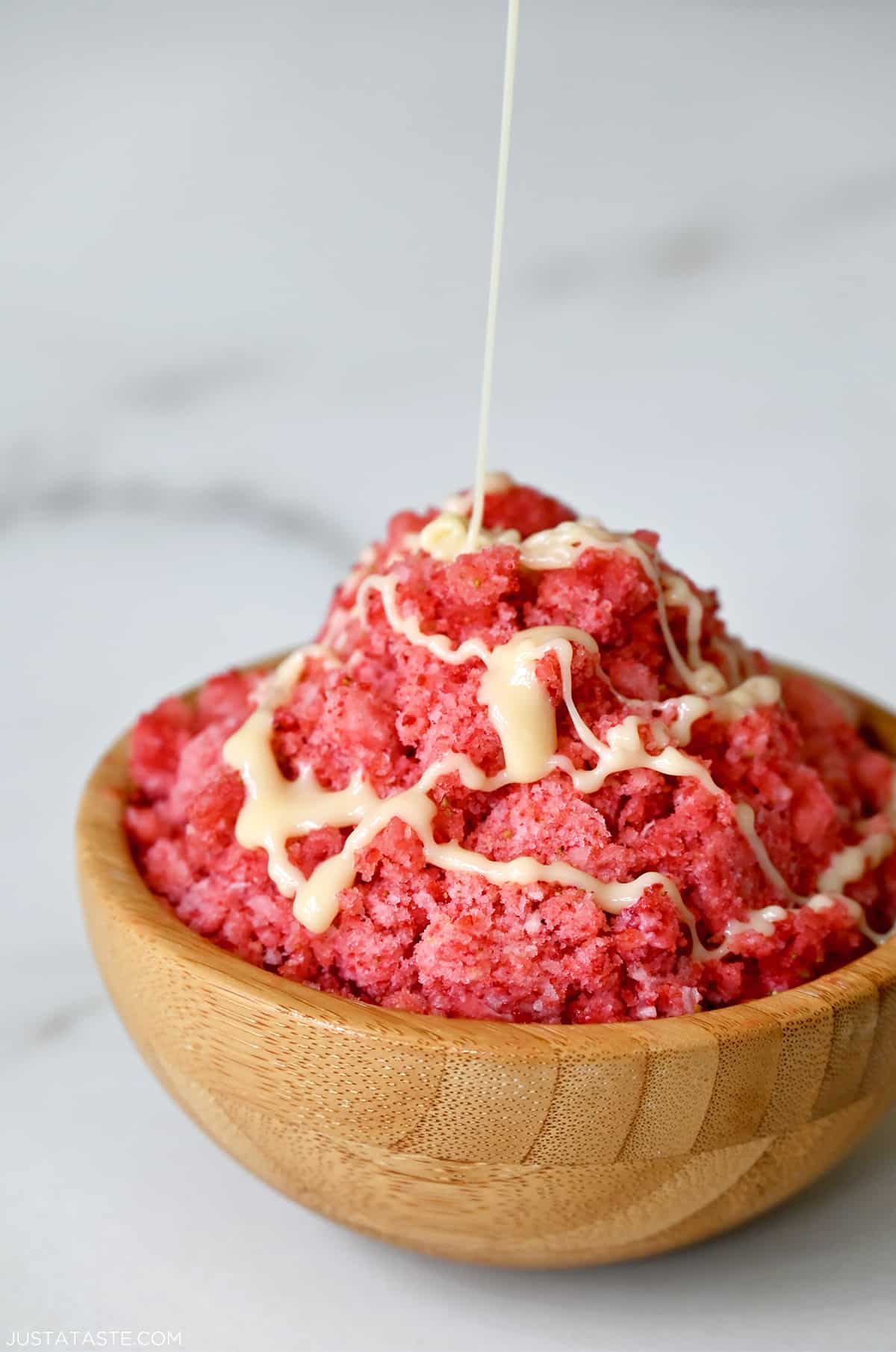 Ingredients
2

cups

frozen fruit of choice

Sweetened condensed milk, for topping (optional)
Instructions
Attach the shredding blade to the food processor.

With the food processor running, add the frozen fruit and push it down with the tamper.

Serve the shaved ice immediately topped with a drizzle of sweetened condensed milk (optional).
Nutrition
Calories:
46
kcal
,
Carbohydrates:
11
g
,
Protein:
1
g
,
Fat:
0.4
g
,
Saturated Fat:
0.02
g
,
Polyunsaturated Fat:
0.2
g
,
Monounsaturated Fat:
0.1
g
,
Sodium:
1
mg
,
Potassium:
220
mg
,
Fiber:
3
g
,
Sugar:
7
g
,
Vitamin A:
17
IU
,
Vitamin C:
85
mg
,
Calcium:
23
mg
,
Iron:
1
mg
This post may contain affiliate links.