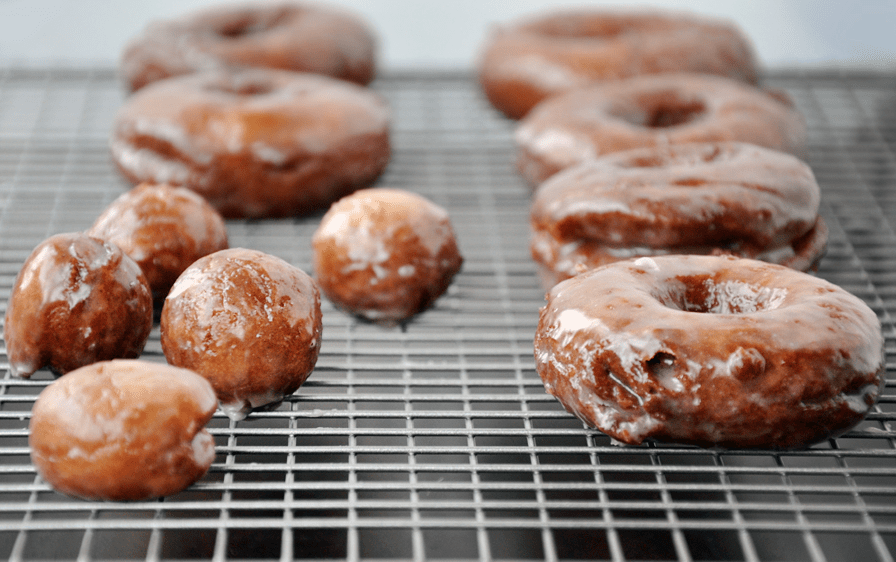 Deep fried or baked. Dipped in glaze or rolled in sugar. Topped with sprinkles or left unadorned. I don't discriminate when it comes to my favorite food.
I have such a love for the golden brown rings of glory that I once walked more than five miles around New York City sampling nine different doughnuts in a single day. It was a Tour de Glaze that led me to crown the city's best doughnut in the first ever Just a Taste Doughnuthon.
I've made doughnuts in the past. They were a semi-store bought insanely easy excuse for doughnuts, but they were delicious doughnuts nonetheless. But ever since my mom gave me Lara Ferroni's Doughnuts cookbook, I knew I had to do both of us proud by making the real deal. And since I'm of the camp that thinks sour cream is the single greatest secret ingredient ever for baking (think Glazed Lemon Pound Cake, Blueberry Muffins and Chocolate Loaf Cake), I figured there was no better starting point than Glazed Sour Cream Doughnuts. I could not have been more right.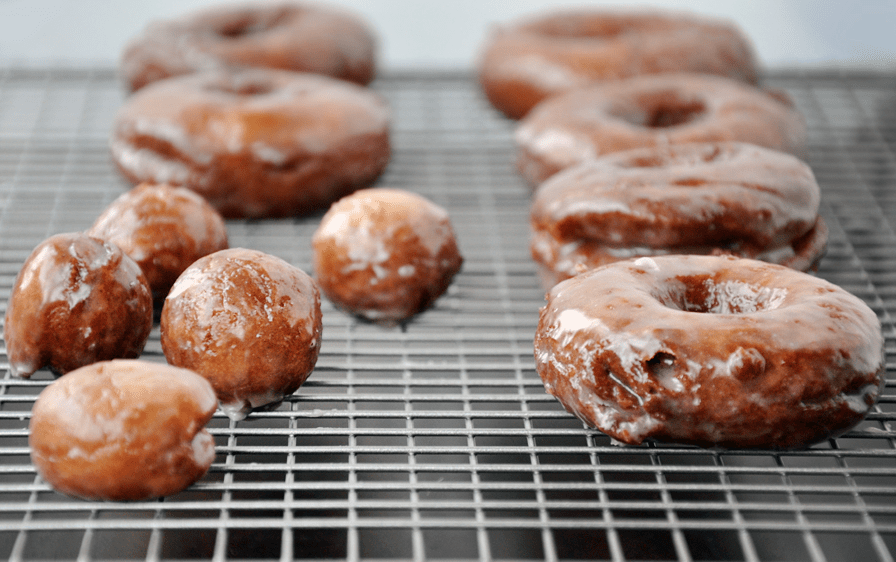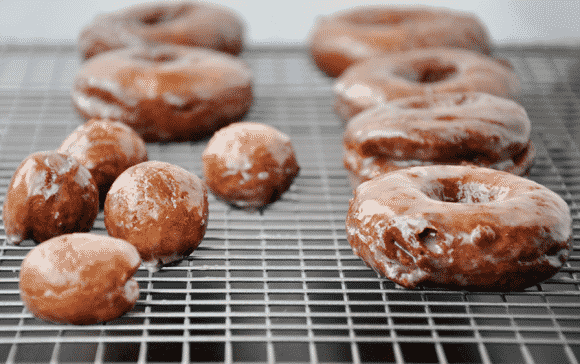 Ingredients
For doughnuts:
1 ¼

cups

all purpose flour

1

teaspoon

baking soda

1

teaspoon

cinnamon

1/8

teaspoon

salt

1/3

cup

sugar

1/4

cup

sour cream

1

large egg

1

Tablespoon

unsalted butter, at room temperature

Vegetable oil, for frying
For sugar glaze:
1 ½

cups

confectioners' sugar, sifted

3

to 4 Tablespoons whole milk

2

teaspoons

vanilla extract
Instructions
First make the doughnuts by sifting together the flour, baking soda, cinnamon and salt into a bowl. Set aside.

In a separate bowl, whisk together the sugar, sour cream, egg and butter.

Add the flour mixture in batches to the sour cream mixture, folding it in with a spatula until fully incorporated into a smooth dough. Cover the bowl with plastic wrap and refrigerate the batter for 20 minutes.

Roll the dough out onto a lightly floured surface until it is approximately ½-inch thick.

Use a cookie cutter to cut out doughnuts that are 2½ inches in diameter. Re-roll scrap dough until all doughnuts have been cut out. Optional: Reserve the centers of each doughnut to make doughnut holes.

Prior to frying the doughnuts, prepare the sugar glaze by combining the sifted sugar, whole milk and vanilla extract in a small bowl.

When ready to fry doughnuts, heat at least 2 inches of vegetable oil in a heavy-bottomed pot until it reaches 360ºF.

Fry the doughnuts and doughnut holes in batches until they are golden brown.

Using a slotted spoon or spider, transfer the doughnuts to a cooling rack to drain. Let them cool just slightly before dipping them in the prepared glaze.

★ Did you make this recipe? Don't forget to give it a star rating below!
Nutrition
Calories:
73
kcal
,
Carbohydrates:
9
g
,
Protein:
1
g
,
Fat:
3
g
,
Saturated Fat:
2
g
,
Cholesterol:
28
mg
,
Sodium:
189
mg
,
Potassium:
25
mg
,
Sugar:
8
g
,
Vitamin A:
125
IU
,
Calcium:
20
mg
,
Iron:
0.1
mg
This post may contain affiliate links.
Recipe adapted from Doughnuts by Lara Ferroni.