May 22, 2013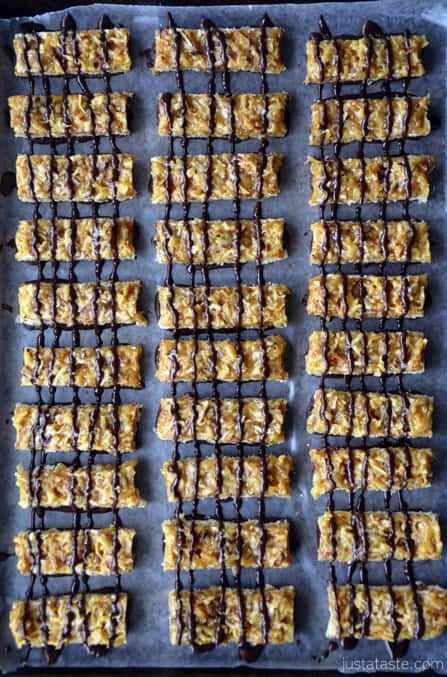 Ask and ye shall receive, my fellow coconut cookie lovers. Remember the Homemade Samoas Girl Scout Cookies from February? Remember their buttery shortbread base, caramel-coconut topping and dark chocolate drizzle? Well, they're back, and in bar form, all thanks to your requests!
Over the past three months, I've received countless emails, Facebook messages, Tweets and Instagram pleas for an abridged version of the iconic cookie recipe. Long story short: While the homemade Samoas cookies are spot-on for taste and texture when compared to the real deal, I wouldn't exactly put them in the "quick and easy" dessert category.
I've spent the past few weeks transforming the original recipe into a cookie bar recipe, eliminating the need to refrigerate and roll out the dough, as well as cut it into shapes. I've whipped up a basic shortbread base for a 13-by 9-inch baking pan, reworked the coconut-to-caramel ratio and upped the amount of dark chocolate. I dip the bottom of each cookie bar in chocolate, but you could just as easily skip this step and shave off even more time in your quest for homemade Samoas success.