Score a touchdown on game day with crowd-friendly football party recipes, including chicken wings, nachos, guacamole, pretzel rolls and more top-rated favorites. Get ready to elevate your football party to the next level with these easy and irresistible game day snacks!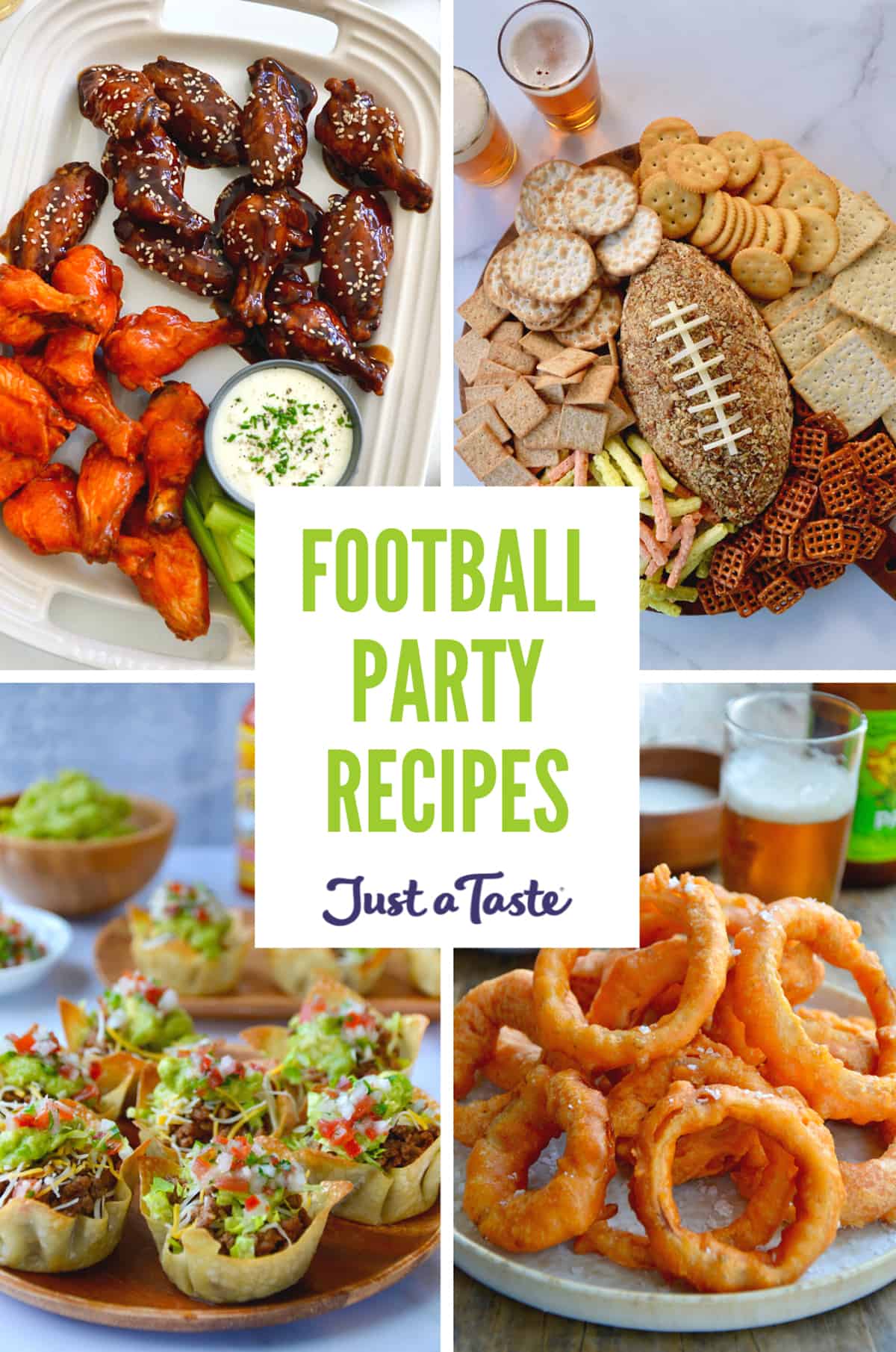 Football season is here, and that means it's time to gather your friends and family for some game day fun! Whether you're cheering for your favorite team or just in it for the commercials, one thing's for sure: you need delicious food to keep everyone fueled and happy. Get ready to score big with crowd-pleasing football party food ideas that will have your guests cheering for more.
Best Chicken Wing Recipes for Game Day
No football party is complete without a platter of crispy, saucy chicken wings. From the classic heat of Buffalo to unique global-inspired recipes, prepare to embark on a wing journey that will have your taste buds cheering. Best of all, these recipes can be baked or air-fried for the ultimate in stress-free entertaining.
Dips & Spreads
From creamy classics like creamy artichoke dip to protein-packed guacamole and cheesy delights, this section is all about the mouthwatering dips and spreads that will have your guests dipping, scooping and savoring every touchdown-worthy bite.
Soft Pretzels Recipes
There is nothing better than a hot, buttery, salty soft pretzel. Whether you prefer them with a side of tangy mustard or a warm beer cheese dip, we've got the step-by-step instructions to ensure your pretzels turn out perfectly golden and delicious.
Tailgate Appetizers to Feed Any Size Crowd
From the bold crunch of loaded nachos to the spicy kick of jalapeño poppers and the savory indulgence of beer-battered onion rings, we've got all your football snacking needs covered. Get ready to score big with these delicious appetizers that will keep your game day crowd fueled and satisfied.
Easy Pizza Recipes
Whether you're a fan of classic favorites like pepperoni or a lover of creative and gourmet toppings, we've got the pizza recipes that will turn your football party into a delicious celebration.
Easy Cheesy Chicken Stromboli: Grab all your favorite pizza toppings and turn them into fillings inside this cheesy pizza braid.
Easy Muffin Pan Pizza Cups: These pizza cups are the best finger-friendly food because they combine the deliciousness of classic pizza in a convenient, bite-sized form. Customize with all your favorite toppings for the ultimate snack.
Cheesy Chicken Pizza Pockets: This recipe is completely customizable and can be made with shredded rotisserie chicken, leftover turkey, chopped veggies or any other spare odds and ends stashed in your fridge. Dip and dunk in marinara for a big win with all ages.
Cheese and Pepperoni Pizza Bites: Pillowy dough pockets filled with your favorite pizza toppings then baked until golden brown.
Bruschetta Pizza with Balsamic Syrup: Warm homemade pizza dough is baked and then rubbed with garlic before being sliced and topped with a refreshingly simple mix of diced tomatoes, minced garlic and chopped basil.
The Best French Bread Pizza with Burrata: Step aside, pizza toast! There's a new mind-blowingly easy and delicious favorite in town: French Bread Pizza. It comes together in minutes and provides the perfect blank canvas for all of your favorite pizza toppings.
Muffin Tin Pizza Pockets: They take minutes to make and star your favorite toppings-turned-fillings. Because what's not to love about a handheld pizza pocket?
Rainbow Veggie Flatbread Pizza: This recipe turns store-bought naan or flatbreads into a colorful and delicious appetizer starring creamy hummus and fresh veggies.
Cheesy Chicken Taco Pizza: A delicious Mexican-inspired pizza starring seasoned ground chicken or turkey, refried beans, cheddar cheese, lettuce, tomatoes, red onions, and a zesty touch of lime juice, all on store-bought or homemade pizza dough. Try my recipe for pizza dough without yeast!
Meatballs
From savory cheese-stuffed meatballs to sweet and tangy cocktail meatballs, this section is all about these bite-sized favorites. Serve them with toothpicks for easy snacking or in a hearty sub sandwich for a more substantial option. Meatballs are versatile and always a hit at game day gatherings.
Creative Cocktails & Mocktails
Whether you prefer an ice-cold, boozy concoction or a refreshing non-alcoholic alternative, we've got you covered. From touchdown-worthy cocktails with a twist to family-friendly mocktails, this section is all about raising a toast to good times, camaraderie and game day spirit.
Desserts & Sweet Treats
From gooey butterscotch cheesecake brownies to vanilla cupcakes, you'll find an array of dessert recipes that are easy to prepare and guaranteed to score points with your fellow fans. So, whether you're celebrating a victory or comforting friends after a tough loss, these sweet treats will ensure your football party ends on the sweetest note possible.
Subscribe to Just a Taste
to get new recipes, meal plans and a newsletter delivered straight to your inbox! And stay in touch on
Facebook
,
TikTok
,
Pinterest
and
Instagram
for all of the latest updates.
This post may contain affiliate links.